THS

volleyball 4th at home invitational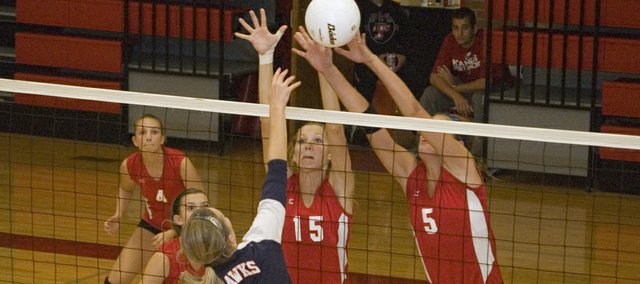 THS invitational scores
Pool play
Piper W 25-19, 25-23
Leavenworth W 25-14, 25-11
Gardner-Edgerton L 25-19, 25-16
Bracket play
Olathe East W 25-18, 17-25, 26-24
Manhattan L 25-20, 26-28, 25-16
Third-place match
Ottawa L 25-18, 25-20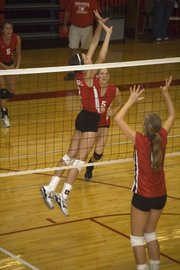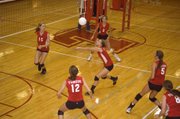 A win away from the Tonganoxie Invitational championship match on Saturday, the Tonganoxie High volleyball team was forced to settle for fourth place at its annual home tournament.
A semifinal loss to Manhattan by the Chieftains was followed immediately by the third-place match, which they dropped, 25-18, 25-20, to Ottawa, a team they had beaten in straight games just a week ago at the Rossville Invitational.
The surprising loss to OHS could have come from the fact Tonganoxie, which finished 3-3 at the tournament, had to play three consecutive matches in bracket play — first, a victory over Olathe East, then losses to Manhattan and Ottawa — with only brief breaks in between.
The letdown of being in position to make the title game before losing to MHS in the semis, 25-20, 26-28, 25-16, too, could have led to disappointment about playing for third.
Throw in the fact that the first two bracket matches for Tonganoxie went three games apiece and fatigue could also have been a factor in the loss to Ottawa.
THS co-coach Brandon Parker, however, said the team just needed to be mentally stronger.
"It's just mind over matter on that deal," Parker said. "I know that we played three against two really good teams that played well, but a loss is a loss."
The win against Olathe East to open bracket play was the highlight of the day for the Chieftains. They took the first game, 25-18, and after OEHS forced a third with a 25-17 win, Tonganoxie scored a 26-24 win to reach the invitational semifinal.
After taking a 17-16 lead in the decisive game against the Hawks, there were five ties but THS fought off the Class 6A squad. The game was tied at 22 when Sagan Scates set up Kailan Kuzmic for a big kill. Following two more ties, Molly O'Hagan sealed the victory with a block.
O'Hagan tallied 12 kills in the win. Kuzmic had six kills against Olathe East and Jenny Whitledge registered nine, including a huge spike late in the match that gave THS a three-point lead.
Scates had eight assists in the match.
Tonganoxie went 2-1 in pool play with wins against Piper and Leavenworth and a loss to Gardner-Edgerton, ranked No. 5 in 5A this week by the Kansas Volleyball Association.
Next up for the Chieftains is a 5 p.m. Tuesday home triangular, when Lansing and Mill Valley come to visit.