Going for the (mental) block
Chieftains focus on Saturday success, not setback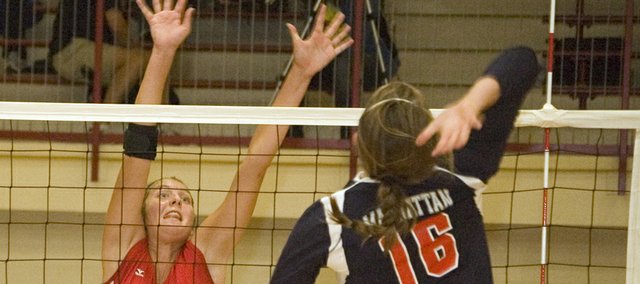 THS tourney results
Tonganoxie High went 3-3 at its home tournament on Saturday to finish in fourth place.
Pool play
Piper W 25-19, 25-23
Leavenworth W 25-14, 25-11
Gardner-Edgerton L 25-19, 25-16
Bracket play
Olathe East W 25-18, 17-25, 26-24
Manhattan L 25-20, 26-28, 25-16
Third-place match
Ottawa L 25-18, 25-20
Photo Gallery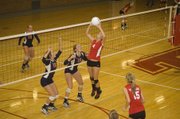 THS volleyball 4th at home invite
Tonganoxie High's volleyball team finished fourth at the Tonganoxie Invitational on Saturday with a 3-3 record.
Invitational honors
Ten players at the Tonganoxie Invitational were selected for the All-Tournament Team and two more were honored with individual awards.
All-Tournament Team
Courtney Will, Olathe East
Kelle Carver Shawnee Mission Northwest
Jaime Birzer, Ottawa
Katie Hannam, Olathe East
Hannah Bettge, Gardner-Edgerton
Maggie Bones, Ottawa
Phoebe Janssen, Gardner-Edgerton
Kylie Rupe, Manhattan
Molly O'Hagan, Tonganoxie
Mari Jo Massanet, Manhattan
MVP
Cassie Wait, Gardner-Edgerton
Best Defensive Player
Megan Hummelgaard, Tonganoxie
"Remember the invitational," will not soon become a rallying cry for Tonganoxie High's volleyball team.
More like "Forget about it."
There's nothing particularly horrible about finishing fourth, but THS volleyball players would prefer to take their final outcome from Saturday's invitational and file it away somewhere deep within the recesses of their minds.
The Chieftains weren't backing away from responsibility after their loss to Ottawa in the third-place match of their home tournament, but they would rather not dwell on the 25-18, 25-20 loss to a team they beat in straight games one week earlier.
"We're trying not to let the sting of how poorly we played against Ottawa take away the fact of what we did do," THS co-coach Brandon Parker said.
What they did earlier in the day at the invitational showed promise. First, THS beat Piper and Leavenworth in pool play. Their first loss was nothing to be ashamed of: a two-game defeat at the hands of Gardner-Edgerton, ranked the No. 5 Class 5A team in the state by the Kansas Volleyball Association. Then came a thrilling win against 6A Olathe East to open bracket play and a three-game, heartbreaker of a loss to 6A Manhattan in the tournament semifinal.
With emotions spiking and plummeting in back-to-back matches, THS (12-6) had to play its third straight match against Ottawa and fatigue brought down the home team. However, senior Molly O'Hagan, who was named to the All-Tournament Team, said the Chieftains should have been tougher.
"I absolutely think it's all mental. Your body's going to be tired but you have the decision on whether or not to fight through it," she said, adding she and her teammates lost that battle.
The first game against OHS was tied at 12 before the Cyclones closed on a 13-6 run and Tonganoxie actually held a 19-14 advantage in the second game before Ottawa won third place with an 11-1 run.
Sophomore Hannah Kemp said playing Ottawa immediately following a tough loss to Manhattan proved difficult.
"We came out and we sort of had it at the beginning and then it just sort of died," she said of the team's finish.
Kemp, like O'Hagan, said losing a mental battle led to the Chieftains' loss, because they only seem to play with a lot of energy when they are winning.
"Then we start to do a few things wrong and it kind of gets to us," she said.
Plus, Parker said the team wore down and fundamentals were a casualty.
"As we got tired," he said, "our passing got a little shorter, our setting got a little off and then we were having to work even harder to make what we feel is an easy play."
The disappointment of losing to Manhattan and failing to reach the championship match (won by Gardner-Edgerton), O'Hagan said, was multiplied by the loss to Ottawa.
"It's not a great feeling to lose, especially (after) playing all day," she said.
However, O'Hagan said the team didn't have to be completely bummed about the invitational, citing the squad's improvement from a year ago, when it didn't even get to play in the championship bracket and finished seventh.
From an individual standpoint, O'Hagan said a number of Chieftains stepped up, including Megan Hummelgaard, named Best Defensive Player at the tournament.
"Megan played some great back row," her teammate said. "She was all over the place."
O'Hagan also noted the progress of Danielle Miller, Brooklyn Kerbaugh, Kailan Kuzmic and the team's two setters, Sagan Scates and Kemp.
"I'm really confident that it will come together when it needs to," she said. "I'm a firm believer that things are connected and things happen for a certain reason."
Parker also wanted to focus on the positives from the invitational. He said the team has to be tough in difficult moments.
"We showed signs of that today, which was good," he said.
Now all the Chieftains have to do is forget about fourth.
THS plays host to Lansing and Mill Valley at 5 p.m. Tuesday.
Tonganoxie Invitational Bracket
Championship
Gardner-Edgerton def. Manhattan, 25-22, 22-25, 25-16
3rd Place
Ottawa def. Tonganoxie, 25-18, 25-20
5th Place
Olathe East def. Shawnee Mission Northwest, 25-11, 24-26, 25-19
7th Place
Great Bend def. Eudora, 25-18, 15-25, 25-22
9th Place
Piper def. Bishop Ward, 25-20, 25-23
11th Place
Leavenworth def. Perry-Lecompton, 25-17, 25-15