Injuries force inexperienced
THS

football players on field
Chieftains make do in 20-point 'L'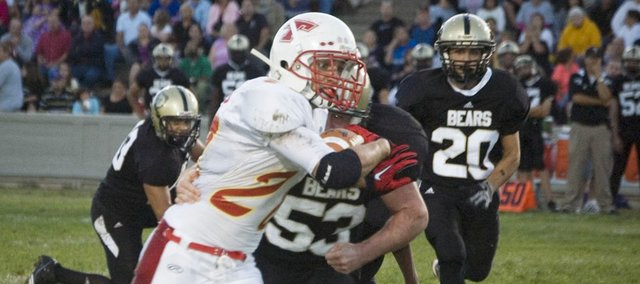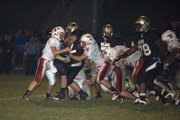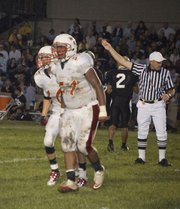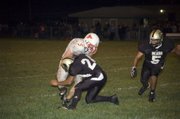 Kansas City, Kan. — With a makeshift lineup on the field against Turner on Friday, the Tonganoxie High football team lost its third straight game and added to its growing list of injured players in the process.
Senior back Dylan Scates is the latest addition to the Chieftains' walking wounded after hurting his left shoulder in the first quarter of Tonganoxie's 28-8 road loss to the Golden Bears.
Already without seniors Jeremy Carlisle, Dylan Fosdick, Jeff Sims and Austin Vickers, juniors Derek Lingo and Tyler Stockman and sophomore Brett Shelton, the loss of Scates was another blow to an already depleted THS roster and the Chieftains made do the rest of the night against Turner (2-2 overall, 2-1 Kaw Valley League).
Tonganoxie (1-3, 1-3) stayed reasonably close in the first half before the Bears took complete control in the third quarter by keeping the ball for 7:47 and scoring 14 points to take a 28-0 lead.
But that didn't mean THS coach Mark Elston was disappointed in his team. He said the Chieftains played much better than a week before in a 57-12 home loss to Mill Valley.
"I'm a lot more encouraged with our effort tonight than I was last week," Elston said, noting Turner often times had 11 players with height advantages over Tonganoxie's players on a given play.
That lack of size resulted in part from the amount of youth on the field for the Chieftains, who had two freshmen and four sophomores lining up for their defense most of the night, and the necessity of plugging holes with players who weren't on the top of the depth chart when the season began.
Sophomore Tyler Zinser stepped in for Scates at running back, sophomore Ty Barton got his first start on the defensive line, senior Jacob Cannon (5-foot-10, 170-pounds) started on the offensive line, freshman Joe Wolfe played almost the entire game at free safety and sophomore Garret Elston and junior Adam Thomas played at a new position — outside linebacker — most of the night.
Coach Elston said the new linebackers barely had time to practice the position before Friday.
"I was real proud of those two," the coach said of Garret Elston and Thomas. "Adam made some great open-field tackles."
Tonganoxie's overall lack of experience was the difference in the game, Coach Elston said.
"They're giving us everything that they've got but they're freshmen and sophomores," he said of the underclassmen.
Although the coaching staff always tells the backups they need to be ready because they never know when they will get a chance to shine, the coach said, there is usually that feeling of being a little overwhelmed at first. Still, Elston added, the underclassmen did their best to escape the "deer in headlights" syndrome.
"I thought our kids dug and fought and I was proud, especially of our younger ones," the coach said.
Of course, some Tonganoxie veterans made some key plays, too. Senior Shawn Marin had a 49-yard run. Senior Ian McClellan made a tackle for loss. Junior linebacker Jonas Myers recovered a fumble. And the defense came up with a stop on fourth-and-goal on its own one-yard line in the third quarter.
"I thought we fought a lot harder this week than we did last week," Elston said. "The kids that we had on the field were kids that were gonna give us everything that they had."
However, the coach said he needs to see more out of his offense, which allowed quarterback Brady Waldeier to be sacked seven times while netting just 190 yards on 61 plays, and promised changes to the lineup.
"We've got a couple of people who haven't decided if they want to just get mean and nasty in there yet," Elston said, "so we're gonna work this week to find a couple more people who want to be mean and nasty on offense."
The coach said he hopes to get Sims, Fosdick and Vickers back in uniform this week, when Tonganoxie has a 7 p.m. Friday home date with Bonner Springs (0-4, 0-3). But Scates, Lingo and Stockman will be out and Elston described Carlisle, the team's first-string quarterback, as "very doubtful."
Score by quarters
Tonganoxie 0 0 0 8 — 8
Turner 6 8 14 0 — 28
Scoring
Tur. — David Bernal 1 run. Nick Rodriguez kick missed.
Tur. — Bernal 2 run. De'Andre Walters run.
Tur. — Safety.
Tur. — Walters 1 run. Conversion failed.
Tur. — Brian Blackwell 5 run. Conversion failed.
Tong. — Garret Elston 1 run. Garret Elston run.
THS rushing: Shawn Marin 5-60, Ian McClellan 6-32, Brady Waldeier 14-29, Tyler Zinser 8-20, Cody Saladin 5-16, Dylan Scates 2-8, Adam Thomas 2-4, Garret Elston 4-2.
THS passing: Brady Waldeier 3-8-19 one intercepted.
THS receiving: Dallas Jacobs 2-13, Dylan Scates 1-6.