St. Vincent provides health care safety net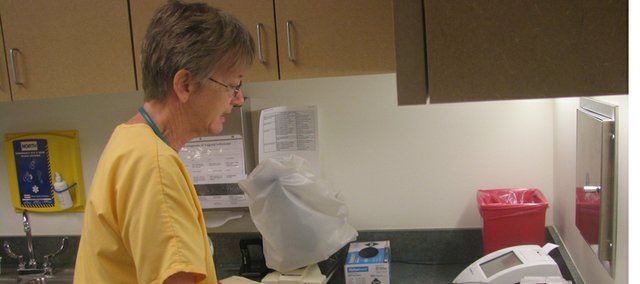 Barbara McCloud had more than the usual concerns when she was laid off in December 2008 from a mutual fund company.
The critical need the Tonganoxie woman faced with the loss of her employer health insurance policy was obtaining insulin and other prescribed medications to manage her diabetes. Extending her insurance through a COBRA plan wasn't an option, McCloud said.
"If you don't have any money, you can't pay $500 a month for insurance," she said.
For two months, McCloud fought a losing battle to manage the condition she'd had for 30 years without the drugs she estimated would have cost at least $500. Finally, McCloud sought help at St. Vincent Clinic.
McCloud wasn't yet in a medical from page 1
crisis when she made her way to the clinic at 818 N. Seventh St. in Leavenworth. Unfortunately, St. Vincent treats many first-time patients who are, said Karole Bradford, development director for the clinic.
"We really serve the folks who have no other options for health care," she said. "That reflects our patient base. Fifty percent of the folks come in with chronic diseases — diabetes, heart disease or COPD (chronic obstructive pulmonary disease).
"When you don't have a lot of options, you're broke and have no insurance, you're not going to go anywhere for a yearly checkup. You're going to get pretty darn sick and then go somewhere for health care."
St. Vincent's goal is to provide a health care home to Leavenworth County residents without health insurance and unable to qualify for Medicare, Medicaid or Veterans Administration benefits or other programs and who meet income guidelines, Bradford said.
It's not a free clinic. Patients are asked to pay $15 for an appointment and $5 for any lab work, but service wouldn't be denied if a patient can't pay, Bradford said.
With many of its patients seeking treatment for chronic illnesses they've neglected or were undiagnosed before a visit to St. Vincent, a focus of the clinic is education.
"We do a lot of one on one with our nurses and providers," she said. "More than I get at my doctor's office."
McCloud said that wasn't the case for her until she was later diagnosed with high blood pressure. The initial service St. Vincent provided was a means of securing insulin and other drugs needed to treat her diabetes, she said.
Large pharmaceutical companies have great programs, which provide drugs to those who can't afford them, Bradford said. But there's a catch.
"It's very challenging," she said. "I wouldn't know how to get the drugs I need without help."
It's more than lots of paperwork, Bradford said. Drug companies want current patient information on such things as drug combinations, medical history and subscription and dosage changes.

St. Vincent staff members, including a part-time volunteer pharmacist, helps patients navigate the red tape, Bradford said. Clinic staffers are able to obtain about $500,000 of drugs from pharmaceutical companies annually for St. Vincent patients.
The clinic also has full- and half-time nurse practitioners, a full-time nurse and RN and part-time volunteer doctor who comes to the site, Bradford said. Other volunteer medical professionals augment the staff, she said.
The staffing is key to St. Vincent's goal of being the medical home of its patients, Bradford said.
"If we know a patient needs blood work, we draw it at our clinic so they don't have to go somewhere else," she said. "That's what we want to do. We want to do as much as we can on site."
The public's view of safety net clinics is often misinformed from TV shows that depict them as dirty, crowded facilities providing poor care to a less-than-desirable clientele, Bradford said.
"That's not what we are," she said. "We're a doctor's office. We're as clean and professional as any other doctor's office. Our staff is qualified, certified and dedicated to providing quality care for our patients."
McCloud said she was very pleased with the quality of care St. Vincent provided. She now wants to give back to the clinic.
Frustrated at her attempts to get a job in her old industry, McCloud enrolled in a Lawrence career school to study medical record keeping.
"I'm getting A's and B's," she said. "I will graduate in November. I've already said if they (St. Vincent) need my help, I'm willing."
Right now, St. Vincent is expecting help from the Leavenworth County United Way campaign, Bradford said. In 2010, the campaign provided enough money to allow the clinic to treat 44 patients and was second behind the Kansas Department of Health and Environment as a funding source, she said.
Like many safety net programs, the clinic has been busier with the prolonged economic downturn. The clinic saw 975 patients in 2009 and had 4,427 patient visits, Bradford said. That was a 40 percent increase in patients from the two previous years and 6 percent more visits, she said.
St. Vincent is seeing more of the working poor since the start of the recession, Bradford said. Its patient load now is split about 50-50 between the working poor and the unemployed, she said.
"Any of the typical things families are going through, that's what we are seeing with our patients," she said. "Some of the things we are seeing is jobs realigned from full time to part time, jobs with no benefits, jobs moving away or going away."
Bradford views St. Vincent as an economic development tool. It allows patients like McCloud to carry on while training for other careers or provides a patient the proper diagnosis and treatment so that a worker can return to employment.
"We had a patient who had a warehouse job he struggled with and got fired," she said. "Then when he came to us, he was diagnosed with diabetes. That was the reason he was struggling.
"Economic development people are always talking about workforce development. If you want to grow the workforce, you need people who are healthy."