Late switch doesn't pay off for Chieftains soccer
THS

girls fall to 0-3, remain scoreless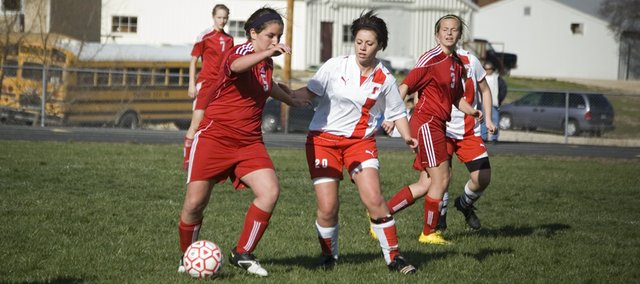 Photo Gallery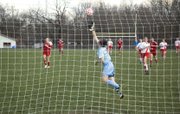 THS girls soccer falls to Lions
Lansing defeated the Tonganoxie High girls soccer team, 3-0, on Friday at THS.
Desperate for a goal late in the second half Friday against Lansing, Tonganoxie High girls soccer coach Justin Seever gambled.
With the Chieftains down just one goal with less than eight minutes left, Seever took senior goalkeeper Alex Bartels out of the net so she could sub back in as an attacking forward.
The move, however, didn't pay off for THS. The Lions padded their margin of victory with a pair of goals in the final five minutes and won, 3-0.
After Bartels came off the pitch in the 73rd minute and junior goalkeeper Eva Drennan, who started for Tonganoxie (0-3) in the season opener on Monday, entered, the senior made a quick change out of her keeper's gear and was back in as one of four THS forwards within two minutes.
Seever said the front-heavy lineup, though, led to defensive breakdowns and LHS goals.
"We had four forwards in. That's why it got kind of chaotic in the back," he said.
The problem for the Chieftains on Lansing's final two goals, the coach added, was the same one that has plagued the them through three matches, during which their opponents have outscored them 10-0.
"We're losing our marks, and not communicating that we're losing our marks," Seever said.
THS senior midfielder Carson Simmons said the team has given up multiple goals in a two- or three-minute span (in the final minutes versus Lansing and on Thursday in the first half of a 4-0 home loss to Spring Hill) because the Chieftains' opponents have caught them on their heels.
"We just need to stay on our toes," Simmons said. "That way that doesn't happen."
The senior captain felt like improvement will come, because the team, which has six freshmen seeing various amounts of playing time, is still trying to get in sync. She said once that happens, the players will have a feel for how the ball movement should flow.
"This is our first week of actually playing as a team," Simmons said. "We had our spurts tonight where we looked really good and others where the ball was kind of loose and out of control."
Seever said another problem for Tonganoxie Friday was its inability to take advantage of short goal kicks and punts by Lansing by applying some pressure to get a scoring result. Still, the coach said the home team had some chances.
"We had opportunities. (Ashley) Kotowske had a look and just let her touch get away from her," he said of the senior forward, who also nearly scored on a cross that was saved by Lansing's goalkeeper.
Even though THS has not scored a goal in its three losses, Seever said he isn't concerned about it and remains confident the scoring will come.
"I know it's going to come. We're on the doorstep," he said.
The players may be frustrated about the lack of goals at this point, Seever said, but when they get that first one out of the way, that will give everyone a boost and help the entire team play with more energy and aggression.
"We get one, the light's going to come on," he predicted.
The first-year coach told his players after the loss that he is ready to look at different lineup combinations and find a group that can produce.
Thus far, the only major changes that have been made: Bartels moved into the goal for the past two games after she began the season as a midfielder and Shyanne Gergick returned from an injury Friday and played on Tonganoxie's back line.
Next up for the Chieftains is a 6 p.m. Monday road match at Mill Valley, in Shawnee.