Baseball 'a funny game' for 0-4 Chieftains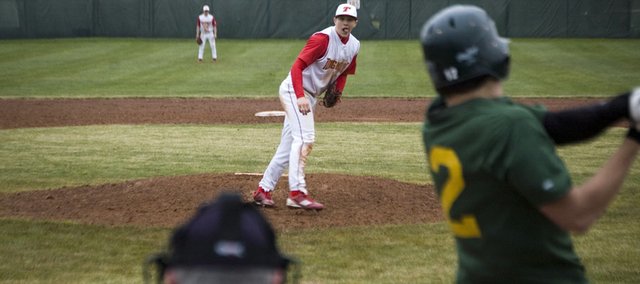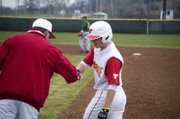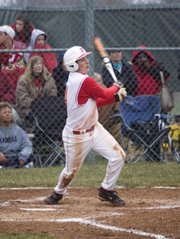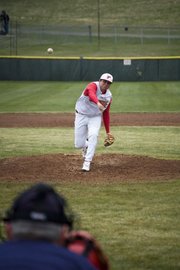 The Tonganoxie High baseball team might have started the season in a rut, but the players and coaches aren't going into freak-out mode following an 0-4 mark in their first week.
The Chieftains had a shot at the win column Thursday at Leavenworth County Fairgrounds against Basehor-Linwood, but followed an 8-7 eight-inning loss with an 8-2 setback.
First-year THS coach Mitch Loomis said although the results aren't what he is looking for, the team shouldn't be angry about being winless.
"Disappointed is the word. We're not mad at ourselves," he said. "We're getting better. We made a lot of little improvements from Monday (March 28, when Bishop Ward swept Tonganoxie)."
Loomis said he has good baseball players on his roster and they just need to work their way through these early struggles.
"Baseball's a funny game, where it just doesn't click sometimes and right now it's not clicking for us," the coach said.
In Game 1 against BLHS, the Chieftains forced an extra inning with a seventh-inning rally. Senior Jeremy Wagner knocked in pinch runner Shawn Marin with a single to center field that tied the game, 7-all.
In the top of the eighth, right-handed pitcher Ethan Lorance struck out three Bobcats, but a walk and a double allowed the visitors to take an 8-7 lead.
Tonganoxie couldn't score in the bottom of the inning, even after Shane Levy, Jeremy Carlisle and Lorance drew consecutive two-out walks. Ben Williams came up with the bases loaded and hit the ball hard on a high fly out to center field.
Pointing to Basehor-Linwood's eighth-inning hit, Loomis said baseball is a "game of inches," and Williams agreed.
"I think we're just three, four plays from being 4-0, honestly," Williams said after driving in three runs in the twinbill. "It's just a game where if you're hot it will go through a hole and if you're not it will be about one-fourth of an inch over and they'll get the ground ball, make the throw."
Loomis said Tonganoxie's main problem has been with the pitching staff not throwing enough strikes and allowing too many walks. Between the free bases and hitter's counts, he said, BLHS had plenty of chances to score.
"We're putting guys on and getting down in counts," Loomis said, noting some of the Bobcats' top hitters got ahead, 2-1 and 3-0, at times. "Guys are gonna get hits like that and then we're just playing chase the whole time."
THS never could catch up in Game 2 after falling behind, 4-0, in the top of the fourth. There weren't a lot of chances for the Chieftains, as they combined to go 6-for-24 at the plate (a .250 average) with six different players — Dylan Puhr, Austin Harkrader, Dylan Fosdick, Carlisle, Wiliams and Levy — getting one hit apiece.
"The biggest thing right now," Loomis said, "is not losing faith for the kids, and I think they still believe in what we're doing."
Tonganoxie plays a doubleheader at 4:30 p.m. on Tuesday at Jeff West.
Game 1
BLHS 001 132 01 — 8
THS 201 120 10 — 7
Tonganoxie highlights: Ethan Lorance 3-for-4, RBI; Jeremy Wagner 2-for-3, 2 RBIs; Dylan Puhr 2-for-3, RBI; Shane Levy 2-for- 4, RBI.
Game 2
BLHS 100 310 3 — 8
THS 000 110 0 — 2
Tonganoxie highlights: Williams 1-for-3, solo HR; Carlisle 1-for-3, RBI.