THS

softball offense struggles against defending champs
Photo Gallery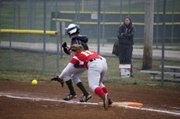 Chieftains softball swept by BLHS
The Tonganoxie High softball team dropped to 2-2 with two home losses Thursday to rival Basehor-Linwood.
In its second date of the 2011 season, the Tonganoxie High softball team quickly learned how great the divide is between playing against a young team and going up against the defending Class 4A state champions.
After sweeping Bishop Ward in their season opener, the Chieftains had much more trouble Thursday at Leavenworth County Fairgrounds when Basehor-Linwood and junior pitching ace Brooke Redmond came to visit.
THS put together just eight hits in the doubleheader and fell, 3-1 and 14-4 (in five innings), to the 2010 state champs.
Tonganoxie coach Lee Matzeder said playing against BLHS was a pretty big leap in level of competition for his team.
The biggest adjustment, senior Kaitlyn Wolken said, was facing Redmond, who went 18-0 last season.
"Pitching was definitely a lot better," Wolken said.
Added junior Haley Smith: "It took a while to get used to it."
In fact, the Chieftains (2-2) only had one hit against Basehor's top hurler in Game 1, and that was a solo home run by Wolken in the fourth inning.
The senior third baseman said she and her teammates started feeling better about facing Redmond, who threw all 12 innings for Basehor on Thursday, late in Game 1.
"The last two innings our bats started coming around," Wolken said. "We just could not get them in the hole. We were just hitting them straight to people."
Smith, a victim of a line out in the bottom of the seventh, agreed.
"They pretty much all went to the pitcher and shortstop," Smith said. "And they were all getting stopped."
After watching his team muster just one hit and one run — and no walks — against BLHS, Matzeder said the game remained close because of the pitching of Tonganoxie's No. 1 thrower, senior Tiffany Jacobs. She threw a complete game, allowed just five hits and no walks and struck out three batters.
"The pitching was there. The hitting and defense wasn't," Matzeder said. "(Jacobs) pitched good enough to keep us in the game."
Because of Jacobs' pitching, the coach said that is the area he is least concerned with after the team's first week of the season.
"Pitching right now looks pretty good," Matzeder said, noting Jacobs had allowed only three earned runs in 15 and 2/3 innings. "That's solid. I can't ask any more than that from her. And she's throwing strikes."
Improved defense and hitting, he added, are areas that need improvement.
Fielding, Matzeder said, will be something the team continues to work on every day.
"I just don't think we've gelled yet, but maybe that's just my fault for not getting the right combination of girls in the right spot yet," he said.
Although THS lost by 10 in Game 2, the coach said he was happy to see his players put the ball in play more often.
Both Wolken (3-for-3) and Smith (2-for-3) had multi-hit games and Kailan Kuzmic and Lainey Walker each had an extra-base hit — Kuzmic doubled and Walker hit a two-run triple in the fourth inning.
Through four games, THS has faced a young team and an experienced one, and Wolken said the Chieftains should be prepared for anything.
"I think we've seen now one extreme to another," she said. "I think we're prepared for just about anything ahead of us now."
The seven hits in Game 2, added Smith, who leads the team with a .462 batting average, should give Tonganoxie some confidence in the batter's box.
"If we can hit off Brooke," Smith said, "we can pretty much hit off anybody."
THS has a 4:30 p.m. Thursday doubleheader at Mill Valley, in Shawnee.