Tonganoxie boys track team strong in field events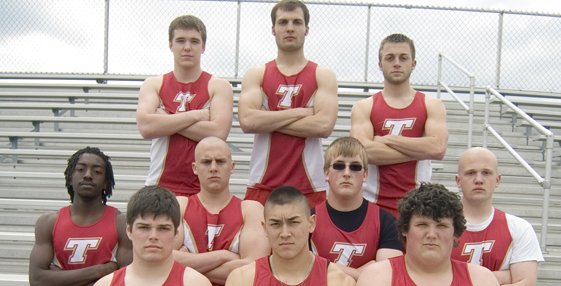 Speed isn't the only determining factor for success at a track meet, which is good news for the Tonganoxie High boys track team.
With plenty of talented jumpers, vaulters and throwers, the Chieftains are counting on their field events to keep them competitive this season.
THS will no doubt miss the points 2010 Class 4A 400-meter dash state champion DJ Lindsay provided the past few years, but coach Phil Williams said this year's team might score more points in pole vaults and jumps than any team he has ever coached.
"I think we're going to score a lot of points in the field, particularly in the jumps," Williams said.
The high jump and triple jump are the events in which Tonganoxie has the most experience, with two returning state medalists — senior Dylan Scates finished sixth last spring in the state triple jump and junior Dylan Jacobs placed sixth in the high jump — and a high jump state qualifier in senior Adrian Whittington.
The only question with that group is: How big of an impact will they make?
"I think we're gonna have a one, two, three punch with all three jumpers," predicted Scates, who said THS can count on its trio of leapers to score points every time out.
Whittington said their state experience and the addition of another jumper will keep them competitive.
"It's gonna help a lot because you got the feeling of state and I want to make it back. There's nothing like making it to state. Seriously," Whittington said. "And Dan Hopkins, he looks like he's gonna be pretty good and he's just getting started. We'll have some competition this year."
Tonganoxie's pole vaulters are expected to be another healthy source of points this season with two-time state medalist senior Jake Willis and senior Ian McClellan, who placed fifth at the Chieftains' regional last year, leading the way.
The two seniors are confident in their abilities, McClellan said, and have spent most of their pre-season practice time helping along the other vaulters.
"I think we spend a little bit more time coaching right now than helping ourselves and actually jumping," he said, noting Cody Martin has improved significantly. "We know what it's going to feel like when we're at the meet. It's more about getting them to know what it's like."
Willis said it is nice to know the vaulters will be one part of a group of strong field-event athletes for THS.
"We have strong jumpers and throwers, also," he said.
Senior thrower Bryson Hewins said between the shot put, discus and javelin, there are more athletes trying to throw this year than the past few seasons.
He said Tonganoxie would be well-rounded in throwing events, thanks to Dallas Jacobs, Lucas Ahart and Tyler Stockman, among others.
Hewins said the throwers aren't a bulky group, but they are talented.
"We don't have the size," Hewins said. "We have a lot of tall, lanky kids that are able to chuck the discus out there."
Although field events appear to be the team's strength, Williams said there are some promising signs on the track. The coach said there likely would be some distance runners who can score points and there is potential in the squad's relay teams.
Both Matt Briggs and Caleb Himpel finished in the top eight at their regional last season in the 1,600-meter run and cross country runners Patrick Rachford and Dalton Harrington are expected to help solidify the distance events.
The team's seniors think the 4x100 relay team could develop into a strength, too, with Scates, Whittington, Willis, Hopkins or Dylan Jacobs running.
Williams said he is excited about this team — more so than he thought he would be — and he likes the attitude the athletes have shown, perhaps more than anything.
"Everybody's out here working hard and if they're doing that they're probably going to come as close to their potential as they can," Williams said, "and that's all you can ask."
Tonganoxie's season begins at 4 p.m. Tuesday at the Lansing Invitational.