Young
THS

girls track team looking to improve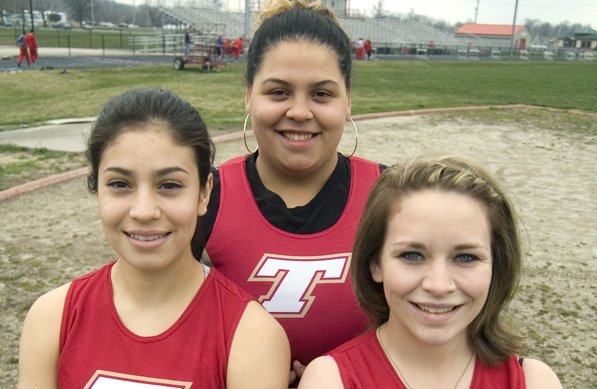 Every season, Tonganoxie High girls track coach Chris Weller gently nudges a few freshmen in the direction of the pole vault.
Never on the top of a newcomer's list of events to try, pole vaulting takes some getting used to.
At one recent practice, Weller was coaching some long jumpers when he heard a scream come from the vaulting area nearby.
"Is there a problem over there?" he thought to himself.
The coach looked over and it turned out Allison Thompson, one of three freshmen Weller had pushed toward pole vaulting, was getting frustrated with her timing. She just couldn't figure out the proper moment to release the pole and finish her vault.
"It takes quite a while, but I see three pole vaulters going over six, seven feet here within the year," the coach said.
The goal Weller has for the freshman vaulters is the same one he has for the entire team this season: "For me, it's continuing to improve," he said.
Freshmen comprise roughly half of Tonganoxie's roster this season. With just three seniors — returning state qualifiers Domino Grizzle (shot put, discus), Dannie Oelschlaeger (pole vault) and Cristina Rubio (400-meter dash) — on the team, Weller knows it won't be easy for the Chieftains to challenge for point titles from meet to meet.
"We're gonna have to really improve. It's gonna sound like an old cliché, but we're rebuilding this year," Weller said, noting 2010 senior Andie Jeannin, state champion in the 800-meter run, will be tough to replace. "We don't have the runners out like we've had in the past."
THS isn't devoid of experience in its running events, though. Sophomore Jenny Whitledge and Rubio finished first and second, respectively, in the 400 last year at the Kaw Valley League meet and both qualified for state.
Rubio said the Chieftains might be stronger in the field events this season, but the team's younger runners are enthusiastic and she thinks that will help.
"You can't replace great athletes but we have a lot of exciting new additions. There's hope," Rubio said.
One new team member who could score some points for Tonganoxie is Rubio's younger sister, freshman Jessica. Weller said "she's really came on" and could be on some relay teams and, once she gets her feet wet, compete in some open events.
Not all of the squad's newcomers are freshmen, either. Weller said sophomore Hannah Kemp, who played softball last season, will compete in low- and high-hurdle events this season.
Weller expects much out of Tonganoxie's field-event athletes, particularly Grizzle — "Basically, in the throws, Domino should dominate pretty much," he said.
There are other experienced throwers to help out the senior, as well. Sophomore Jo Kissinger was fifth in the javelin at the THS regional last season and Holley Thompson placed seventh in the region in discus. Plus, junior Makayla Sample has been a constant in the throwing lineup the past two years.
Grizzle said the younger throwers, including sophomore Rachael Washington, will get acclimated soon.
"Once they get used to it, they'll be ready," she said.
Oelschlaeger, in her fourth year as a THS pole vaulter, is trying to help freshmen Jessica Rubio, Allison Thompson and Taylor Wolken get past the difficult learning curve that accompanies their event, and get them through such things as "the bumps and bruises of hitting your head on the pole."
Oelschlaeger said field events are going to be a major source of points this year.
"I know not a lot of people pay attention to the field events, but that's my focus," she said. "After I get done jumping, I want to go watch Domino throw, I want to go watch the jumpers."
The high jump looks to be another point source for the Chieftains after Whitledge finished second in the event at state last year.
The only area of uncertainty for THS is its depth in running events. Cristina Rubio said she will try to make sure the runners relax, because they can't afford to stress out.
"We can not get discouraged, because this year is going to be very hard," she said. "And we can not lose focus. We need to have pride in what we do."
As long as they continue to improve, their coach will be happy.
Tonganoxie's season begins at 4 p.m. Tuesday at the Lansing Invitational.