2011 elections brings blight to city's agenda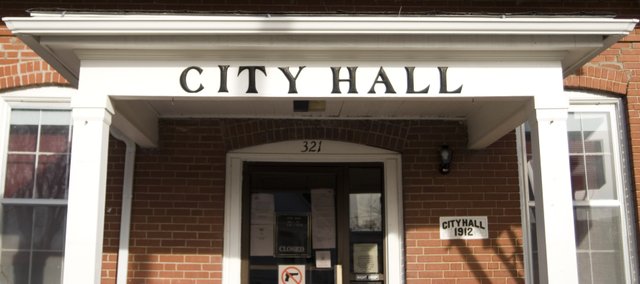 The USD 464 bond referendum on Tuesday's ballot overshadowed races for the Tonganoxie City Council, but city officials and the mayor see the need to respond to an issue citizens raised during the campaigns.
Mayor Jason Ward, who ran unopposed on Tuesday's ballot, said residents have brought the issue of community blight to the city's attention.
"We've seen at the meet-the-candidates forum and comments by citizens at meetings a concern about what we can do to enforce nuisance laws and certain problems with particular properties," he said. "They question if those properties are falling outside nuisance laws or if the laws are being enforced they way they should be.
"I think that we certainly have work to do. To me as a city, we need to constantly evaluate what we can do tokeep up our neighborhoods."
Ward said he viewed the problem as an enforcement issue of the city's nuisance laws, subdivision regulations and parking ordinances. Along with that, city government and its residents have to evaluate what the city can do to ramp up enforcement.
As a way to improve enforcement in a city with a one-day-a-week building inspector/codes enforcement officer, Ward proposes appointment of a citizens' volunteer group charged with spotting and reporting possible violations to the city. Then the codes enforcement officer could concentrate on enforcement during his limited hours rather than patrolling for violations, he said.
City Administrator Mike Yanez said residents could already be helpful by reporting code violations.
"We follow up on every complaint phoned into the city," he said. "As a matter of fact with summer coming up, that's going to be the biggest season for us. With people not mowing yards, we send out 10 letters a week."
Reponses to letters vary, Yanez said. Some residents are apologetic and take steps immediately to correct problems of which they were unaware. Others may take care of the problem but let soon let problems resurface, adding to the frustration of neighbors.
To beef up enforcement in the absence of a full-time code officer, Police Chief Jeff Brandau has directed officers to look for violations of nuisance regulations when patrolling, Yanez said.
But even with more oversight, enforcing nuisance regulations can be frustrating for neighbors and the city, Yanez said.
"We can't just force people to cleanup their messes," he said. "We have to follow due process."
That involves first sending a letter to the offending property owner demanding action within 10 days, Yanez said. Anytime before that deadline, the property owner can file an appeal, which can take 10 days.
Yanez said with the recent interest, he would recommend the council schedule a work session on the issue.
"We'll walk them (council members) through the abatement process, the timeline to appeal, and how tough you can get on violators," he said. "They may want to make some changes."
Ward said he would encourage citizen participation at the work session.
"I think it would be great to have citizens involved in that as well," he said. "It will be a public meeting. Some people who have brought ideas to us should participate.
"It's going to have to be a joint evaluation of those things."
The city also has a role in investing in older neighborhoods in such ways as replacing deteriorated curb and guttering, Ward said.
"We did that on Cox and Second streets," he said. "I'd like to do more of that. We don't want to get pockets in town that haven't been addressed."