Down to a science
THS

4th in division at Kansas Science Olympiad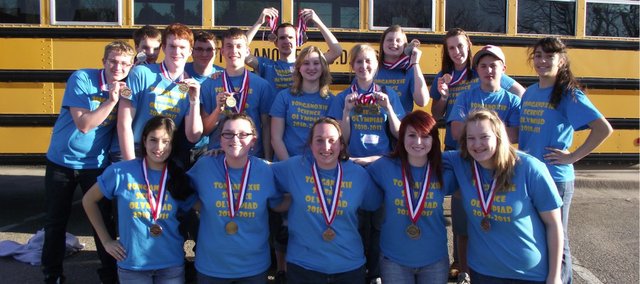 Dane Erickson and Marcus Titterington have been partners in the Write It Do It competition for Science Olympiad since seventh grade.
Erickson contends that first competition in middle school was the most difficult to date — even trumping the most recent competition at the high school level this past weekend at state on the Wichita State University campus.
If you ask Erickson, though, it was that rough go in seventh grade that prepared them mightily for future competitions.
On Saturday, they took first place in the small school division and then learned that they were the top team overall for both small school and large school divisions.
"We heard them announce third and second and we were a little unsure," Titterington said about waiting to hear results. "We were pretty pumped and got first."
In the Write It Do It competition, one team member writes word descriptions and instructions — no picture drawings — about a model made of things such as Legos, cardboard and Tinker Toys. The instructions on how to construct the structure are then taken to another room for the other team member to recreate the model.
Erickson always has been the "writer" and Titterington the "doer" in the two-person tandem.
"Time also matters," Titterington said about the competition. "Most correct (reconstructed model) and then time is a tie breaker. It needs to be fast, as well as correct."
Erickson and Titterington's finish helped THS record its best finish in school history.
There were 29 teams competing at the Kansas Science Olympiad and THS finished ninth overall and fourth in the small school division. Olathe East was the top large school division and top team overall; St. James Academy was the first-place team in the small school division and finished second overall.
The previous year, Tonganoxie finished 28th out of 30 schools.
"Amazingly fantastic," THS coach Tracey Waldeier said, describing Tonganoxie's finish Saturday. "We're pretty proud of ourselves."
Also taking first place in the small school division were Miranda Bontrager and Natasha Sudac in the anatomy and physiology category. Sudac teamed up with Megan Woods for another gold medal for the small-school division in ecology as well.
Bringing home silver medals were Colton Brown and Titterington in optics and Wes Williams and Katelyn Waldeier for wind power.
Winning bronze medals were Titterington and Williams in astronomy, Carrie Calovich and Waldeier in the disease detectives competition, Calovich, Woods and Waldeier in experimental design, Paige Lauri and Bontrager and Woods and Cristina Rubio in technical problem solving.
Fourth-place winners were Hunter Sturgis and Matthew Christensen in the helicopters competition, Rubio, Calovich and Madi Hunter in protein modeling and Aaron McIntyre and Colton Young in the sounds of music category.
Fifth-place winners were Lauri and McIntyre in the sounds of music category.
And finishing in sixth place were Sturgis and Hunter in the towers competition.
The THS squad will seek another state trip during the 2011-12 school year, but it will have to replace five team members. Calovich, Bontrager, Woods, Hunter and Rubio all are seniors this year.
Waldeier said it would be tough not having them on the team next school year, "but our seniors have been wonderful and have been mentors to our younger students with the new tradition (of state appearances)," she said.
Two seniors next year, Titterington and Erickson, finished as runners-up this past year in Write It Do It and hope to repeat as state champs in their final year with Science Olympiad.
They'll continue to work on crafting ways to be efficient in describing projects (Erickson) and building them (Titterington).
Erickson said, for instance, he uses "diag." as shorthand for "diagonal" when describing how a certain piece should be positioned.
Though they don't speak in shortened lingo away from Science Olympiad, Erickson said he could see preparations for Science Olympiad helping him in college — he currently has narrowed majors down to meteorology and engineering.
And he credits his older sister Ann with getting him involved in Science Olympiad.
"I think my sister mainly got me into it in seventh grade," he said.
He'll continue with the same teammate since middle school in Titterington next school year.
"We've been pretty good at what we do, I guess," Titterington said with a laugh.
TMS also sends team to WSU
The TMS team placed 18th overall and ninth in the large-school division.
The team earned two bronze medals, one in the Can't Judge a Powder category (Jacob Tollefson and Allison Bettis) and another in the fossils category (Megan Briggs and Spencer Finkbiner). TMS also finished eighth in Junkyard Challenge and ninth in both dynamic planet and Road Scholar.
"The whole district did fantastic," Waldeier said.