Pair of one-act plays to take
TPAC

stage this weekend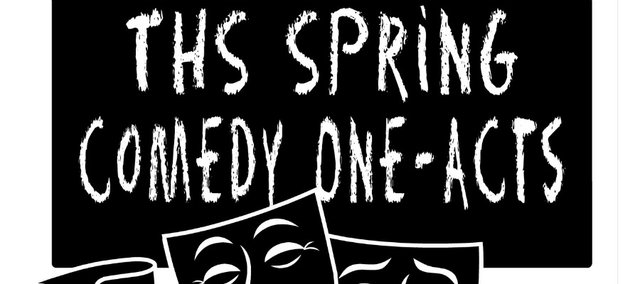 Theater buffs wanting to see local thespians perform have the opportunity to do so Friday and Saturday — with two one-act plays each night.
THS students will perform "The Comic Book Artist" and "The Ever After" starting at 7 p.m. Friday and Saturday at the Tonganoxie Performing Arts Center on the THS campus.
"They're not going to be spellbinding pieces of drama, but they're fun," Harrell said. "The kids are finding ways to develop some characters and have some fun with them and be creative."
It's a busy time of year, Harrell pointed out, with spring sports getting started and other state contests taking place in other extra-curricular activities.
The cast was selected just before spring break, and performers received their scripts to begin memorizing their during the hiatus.
"Comic Book Artist," by Pat Lyderson, is the first one-act play that THS students will perform Friday and Saturday.
The play centers around Stanley Leonardo Sappovitz, who wants nothing more than to become a comic book artist. When he gets a job as a janitor at Wonder Comics, he eagerly awaits the day that his boss, D.C. Wunderman, will notice his drawings and discover his artistic genius. It seems like that day will never come until Wunderman invests in a shipment of magical pens, guaranteed to bring to life any character his artists create. When the staff artists unwittingly unleash the dreaded Doctor Shock Clock, it is up to Stanley to create his own team of superheroes.
Cast members for "Comic Book Artist" are Chris Tiner as the narrator and a police officer, Michael Christensen as Stanley, Calia McPherson as Wunderman and a police officer, Rachel Woods as Viola, Marcus Titterington as Shock Clock, Elliott Brest as Star Guy, Sara Krapp and Christa Firuccia as minutos, Kelsi Briggs as Triple Time, Paige Lauri as Blossom and Madison Hunter as Gorilla Girl.
Bit parts for the one-act play are Megan Woods as bank teller, artist and the emcee; Matt Briggs as bank customer, artist and Rotten Penny; Jody Baragary as warehouse manager, artist and customer; Lacie Falk as warehouse worker, Gladys and a newspaper seller; and Taylor Clark as salesclerk and innocent victim.
"The Ever After" is a one-act play by Nathan Hartswick.
In a parody of daytime TV, host Sally Lizzie Jesse Donatello-Griffin (or Monterey Jack Chesterfield Williamson — you pick the gender) wonders if time truly heals all wounds. She invites Cinderella and her middle-aged "beauty-impaired" stepsisters to reconcile with each other after being estranged for 20 years.
The TV host also brings Snow White and the Evil Queen together. The fractured fairy tale has it all: a trash-talking clairvoyant mirror, an unfortunate prince who is turning slowly back into a frog and even Jiminy Cricket — now an occupational therapist and author of the book "My Life as Your Conscience."
Cast members for "The Ever After" are Nancy Rounda as the host, Halston Field as Broomhilde (a stepsister), Megan Ebbert as Hortense (another stepsister), Kate Ebbert as Cinderella, Aly Bartholomew as Snow White, Mallory Harrell as the evil queen Lucricia, Tyler O'Briant as Magic Mirror, Brady Field as Jiminy Cricket, Keith Slater as Emmett Mantella, Daniel Monahan as Sam (a salesperson), Lauren Hughes as Pat (another salesperson) and Miranda Bontrager, Carrie Calovich, Sam Denholm and Jody Baragary as the studio audience team.
Admission to the performances is $2 each night.