Soccer friendly: Bartels, Simmons share signing day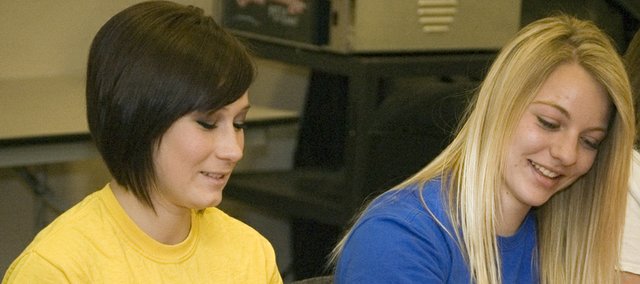 Friends on and off the field, Alex Bartels and Carson Simmons have a lot in common.
They grew up playing soccer on the same recreation team, hang out constantly, served as team managers for Tonganoxie High's boys soccer program and even spent the majority of their senior spring break together.
Even though, Bartels said, the pair do "everything" together, a major part of their friendship has been their involvement the past four years as varsity members of the THS girls soccer program.
It came as no surprise to anyone who knows the Chieftains' senior buddies, then, that the two shared a college signing day ceremony on March 30, when Bartels signed a letter of intent with the University of St. Mary and Simmons put her name on the dotted line with Hutchinson Community College.
Asked when they knew they would have a joint college signing, the two answered "always" simultaneously. Simmons said doing so was a big deal for them both.
"We kind of do everything together and this is a big step for both of us," Simmons said, "so we wanted to take the leap together."
Celebrating their eventual college playing days was a significant moment for them, because, as Bartels put it: "It's the end of us playing together."
Simmons didn't start playing soccer until she was in middle school, and every year she has played since then, she and Bartels have been on the same team. Next year, they will no longer be Chieftains — Simmons will suit up for the Dragons of HCC and Bartels will be one of USM's Spires — or teammates.
"I started playing soccer with her and I get to end playing soccer with her, so it's kind of a big thing for me," Simmons said of her senior season at Tonganoxie.
The two have plenty of matches left to play this spring for THS, but just thinking about those days coming to an end sometime in May is "bittersweet," Bartels said.
"I'm happy she has the opportunity to go to the program she wants to, but I'm sad, too, because it means our games together are numbered," Bartels said.
When they are on the field together for Tonganoxie, Simmons said, each knows what the other is going to do, even before it happens.
"We feed off each other," Simmons said.
Added Bartels: "I can read Carson better than any other player on the field."
Next year, when Bartels is living in Leavenworth and Simmons is more than 200 miles away in Hutchinson, they won't be able to enjoy that on-field chemistry, but they don't plan to let that distance lessen the significance of their longstanding friendship.
Bartels said texts, Facebook and Skype will make it easy for them to stay in touch.
Simmons said she has another solution: Road trips.
"Three and a half hours is like five minutes," she said. "It's not a big deal at all."
College will be different, though, Bartels admitted.
"I'm not really ready to let this part go," she said, "but I'm excited to start the next part, too."