To air is human
THS

track teams finish in top 3 at Basehor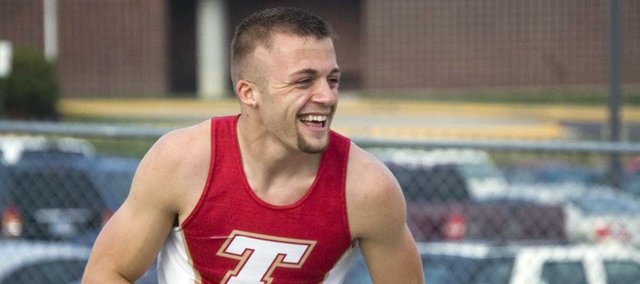 Photo Gallery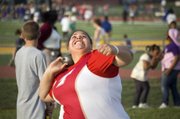 Tonganoxie track at Bobcat Relays
The Tonganoxie High girls track team finished second and the THS boys took third Friday at the Bobcat Relays in Basehor.
Basehor — Things were going so well for the Tonganoxie High boys track team's pole vaulters Friday at the Bobcat Relays that Jake Willis might have been a little distracted.
The Chieftains' three vaulters — Willis, Ian McClellan and Cody Martin — had already secured the top three spots in their event and Willis had twice set a new meet record with vaults of 13 feet, 7 inches and 14 feet.
On his second attempt trying for a new THS record and personal best of 14-7, Willis reached the top of his vault, came down and, after looking up to see the bar in place, exclaimed, "Yes!"
One problem. He didn't go over the bar.
"I was like, 'Why is everyone so quiet?'" the excited senior said later.
Willis and everyone watching had a good laugh about the misunderstanding and it proved to be one of many highlights for the THS boys, who finished third in the team standings.
Willis said once he reaches the top of a vault, it's not always clear to him where, exactly, he is in relation to the bar.
"You just have to go off your form," he said. "Usually you know where you're at."
Watching from a few yards away, McClellan knew exactly where Willis was.
"He thought he cleared it but I was freaking out thinking he was gonna land in the pit," said McClellan, who finished second.
McClellan was prepared to rush over and help out his teammate, who landed safely on the edge of the mat.
"What are you screaming for?" McClellan asked, not bothering to suppress a huge smile, after Willis celebrated.
Field events proved to be the main source of Tonganoxie's scoring at Basehor-Linwood. Dylan Scates racked up points for THS with first-place finishes in the long jump and triple jump and Adrian Whittington was the runner-up in the triple jump.
Dylan Jacobs, meanwhile, placed third in the high jump and two of the Chieftains' javelin throwers — Lucas Ahart and Dallas Jacobs — set new personal records as Ahart (163-11) took third place and Dallas (149-1) finished fifth.
On the track, Tonganoxie had one top-three finisher: Caleb Himpel took third in the 1,600 meters run.
Tonganoxie girls take 2nd
With Domino Grizzle, Jenny Whitledge and Hannah Kemp leading the way, Tonganoxie's girls track team was able to secure a second-place finish at the Bobcat Relays.
A senior thrower, Grizzle won the javelin with a personal record of 101-2.5, finished first in shot put and took second in discus.
Whitledge, a sophomore, won both the long jump and high jump and Kemp was victorious in the 100-meter hurdles, finished second in the 300-meter hurdles and placed fifth in javelin with a personal best throw of 91-6.
Kemp, a sophomore who did not go out for track last season, said she wasn't expecting to have so much success after playing softball as a freshman.
"I was really nervous about coming out and seeing how everyone was. Once you're into high school, things start to take a more competitive edge," said Kemp, who last participated in track at the middle school level. "I was nervous that I was gonna be pretty behind, but I just worked hard."
Kemp wasn't the only Chieftain to run successfully at Basehor. Cristina Rubio took second in the 400-meter dash and the 4x100 relay team of Kemp, Rubio, Whitledge and Haley Sparks finished second.
Tonganoxie's success in field events came with the team's ability to have multiple athletes score in the same event.
While Grizzle led the way for THS throwers, Holley Thompson was fifth in the discus and Jo Kissinger, who also placed fourth in javelin, finished sixth. In shot put, Makayla Sample finished second behind her teammate Grizzle.
The high jump was another key event for the Chieftains with Haley Griffin taking second place, just behind Whitledge.
Tonganoxie's pole vaulters secured three of the top four spots with Dannie Oelschlaeger placing second and Jessica Rubio and Allison Thompson finishing third and fourth.
At 3:30 p.m. Friday, the Chieftains will play host to the Tonganoxie Invitational.
Bobcat Relays
Friday at Basehor
Girls
Team points: 1. Piper, 182.5; 2. Tonganoxie, 152; 3. Bonner Springs, 88; 4. Basehor-Linwood, 76; 5. Perry-Lecompton, 73; 6. Pleasant Ridge, 43; 7. Bishop Ward, 36; 8. Sumner Academy, 28.5; 9. Turner, 19.
THS results
100-meter hurdles — 1. Hannah Kemp, 17.21.
300-meter hurdles — 2. Hannah Kemp, 51.56.
400-meter dash — 2. Cristina Rubio, 1:04.54.
4x100 relay — 2. Hannah Kemp, Cristina Rubio, Haley Sparks, Jenny Whitledge, 53.55.
4x400 relay — 3. Cristina Rubio, Hunter Cook, Jessica Rubio, Kara Banks, 4:37.42.
4x800 relay — 4. Sagan Scates, Abby Thomas, Hunter Cook, Kara Banks, 11:27.75.
800 meters — 8. Abby Thomas, 2:59.42.
Discus — 2. Domino Grizzle, 108-1.5; 5. Holley Thompson, 92-1.5; 6. Jo Kissinger, 88-10.5.
High jump — 1. Jenny Whitledge, 5-2; 2. Haley Griffin, 4-10.
Javelin — 1. Domino Grizzle, 101-2.5; 4. Jo Kissinger, 98-6; 5. Hannah Kemp, 91-6.
Long jump — 1. Jenny Whitledge, 16-10; Haley Sparks, 12-2.5.
Pole vault — 2. Dannie Oelschlaeger, 7-6; 3. Jessica Rubio, 6-6; 4. Allison Thompson, 5-6.
Shot put — 1. Domino Grizzle, 38-6; 2. Makayla Sample, 32-2.25; Holley Thompson, 26-11.75.
Sprint medley relay — 5. Dannie Oelschlaeger, Kara Banks, Haley Sparks, Jessica Rubio, 2:08.72.
Triple jump — 6. Haley Sparks, 26-1.
Boys
Team points: 1. Piper, 128; 2. Basehor-Linwood, 125; 3. Tonganoxie, 110; 4. Pleasant Ridge, 88; 5. Bonner Springs, 82; 6. Perry-Lecompton, 59; 7. Sumner Academy, 48; 8. Turner, 37; 9. Bishop Ward, 34.
THS results
1,600 meters — 3. Caleb Himpel, 5:01.14; 5. Patrick Rachford, 5:07.21.
300-meter hurdles — Seth Ahart, 48.97; Cody Koch, 50.94; Austin Searcy, 51.94.
400-meter dash — Dan Hopkins, 57.93; Noe Puebla, 1:02.06.
4x100 relay — 4. Jake Willis, Dylan Jacobs, Adrian Whittington, Dylan Scates, 46.17.
4x400 relay — 7. Dylan Jacobs, Noe Puebla, Colton Timm, Dan Hopkins, 3:50.53.
4x800 relay — 5. Marcus Titterington, Evan Stilgenbauer, Dalton Harrington, Matt Briggs, 9:00.9.
800 meters — 8. Evan Stilgenbauer, 2:18.88.
Discus — 7. Dallas Jacobs, 116-2; Bryson Hewins, 93-5.
High jump — 3. Dylan Jacobs, 6-0; 4. Adrian Whittington, 5-10.
Javelin — 3. Lucas Ahart, 163-11; 5. Dallas Jacobs, 149-1; Thomas Miller, 124-7.
Long jump — 1. Dylan Scates, 20-10; 6. Adrian Whittington, 19-3; 8. Tyler Basso, 18-9.
Pole vault — 1. Jake Willis, 14-0; 2. Ian McClellan, 11-0; 3. Cody Martin, 10-6.
Shot put — 4. Dallas Jacobs, 42-6; Bryson Hewins, 38-11; Tyler Stockman, 37-2.
Thrower's relay — Dallas Jacobs, Bryson Hewins, Thomas Miller, Lucas Ahart, 52.09.
Triple jump — 1. Dylan Scates, 42-7; 2. Adrian Whittington, 41-5; 5. Tyler Basso, 37-10.5.