Chieftains rally for 8-7 'W' over Lansing
Fosdick drives in 5 for
THS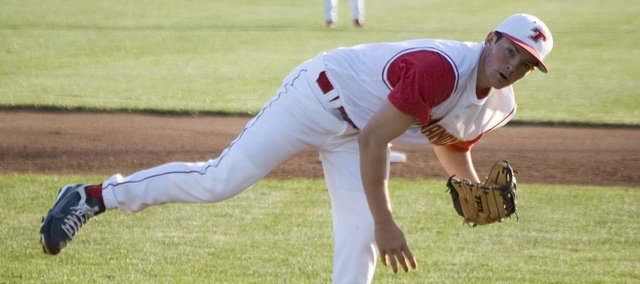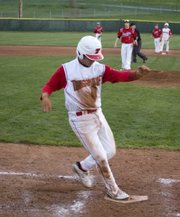 With the bases loaded and his baseball team down a run with two outs in the bottom of the seventh Tuesday night, Tonganoxie High senior Dylan Fosdick slapped a game-winning single to right field.
The Chieftains escaped with an 8-7 come-from-behind home win over Lansing at Leavenworth County Fairgrounds and celebrated on the diamond after Fosdick's clutch base hit scored the tying and go-ahead runs.
The Lions had retired 11 of 13 THS batters before Tonganoxie (4-7) put together a one-out rally in the bottom of the seventh.
Ben Williams was the first to reach base, on a throwing error, and Jeremy Wagner drilled a double to right field to put two runners in scoring position.
LHS intentionally walked Shane Levy to load the bases, and after Tyler Freeman struck out, Fosdick knocked in Williams and Wagner with a clutch opposite-field single.
The Chieftains were fired up for the bottom half of the inning after starting pitcher Dylan Puhr struck out four Lansing batters in the top of the seventh (one reached after a dropped third strike). The senior right-hander fanned 11 on the evening to pick up the win in a complete game.
With the game tied at 4-all in the bottom of the third, Tonganoxie scored a pair of runs to take a brief lead.
Wagner led off the inning with a single and scored on an RBI-double that Levy cranked to deep center field.
Levy advanced to third base on a groundout by Freeman and Fosdick plated Levy with a sacrifice fly to center.
The Lions scored two runs in the top of the fourth to tie the game and took a 7-6 lead in the top of the sixth.
Although LHS got out to early leads in the first and second innings, the Chieftains matched the visiting team's scoring in the bottom frame of each inning.
Down 4-1, Levy opened the bottom of the second with a walk and advanced to third when a grounder hit by Freeman was misplayed.
A sign of things to come, Fosdick drove in both runners with a single to right field.
With two outs, Ethan Lorance scored Fosdick with an RBI-single to left that tied the game at 4.
THS trailed 1-0 entering its first at bat and Jeremy Carlisle led off with a base on balls.
After stealing second base, Carlisle scored on a potential inning-ending grounder hit by Williams. A Lansing error allowed Williams to reach and Carlisle to score.
Tonganoxie is off until a 6 p.m. Monday home game against Baldwin.
Check back in at tonganoxiemirror.com late Wednesday for more photos, quotes and a video from the Chieftains' thrilling home win.
Tonganoxie 8, Lansing 7
LHS 1 3 0 2 0 1 0 — 7
THS 1 3 2 0 0 0 2 — 8
Tonganoxie highlights: Dylan Puhr 7 IP, 11 K's; Dylan Fosdick 2-for-3, 5 RBI, R; Shane Levy 2-for-2, 2 R, RBI; Jeremy Wagner 2-for-4, 2 R.