Council schedules special meeting on cleanup day, nuisance ordinance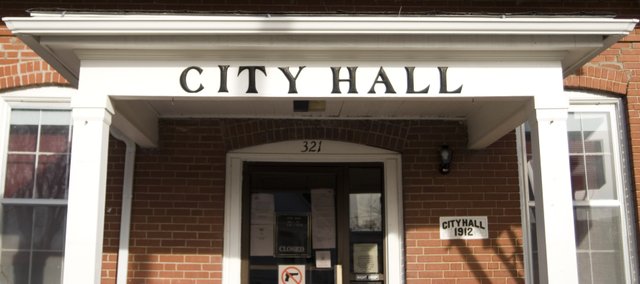 The Tonganoxie City Council scheduled a work session for 6 p.m. Tuesday to discuss a citywide cleanup day and steps the city should take to identify violations of its nuisance code and enforcement of the ordinance.
The work session was scheduled after Mayor Jason Ward introduced the subject during his comments near the end of Monday's council meeting. The topic has been an ongoing concern that residents brought up again during the just-concluded city council campaign and at recent council meetings, he said.
The special meeting would address the city's nuisance and parking ordinances and the city's approach to their enforcement, Ward said.
The city needs a three-pronged approach of education, encouragement and enforcement to address the issue, said Councilman Dennis Bixby, who took his seat on the council Monday after being elected April 5. Enforcement would be the topic of the special meeting, he said.
Another topic of the special meeting would be the scheduling of a citywide cleanup day, such as the one Bixby organized last summer.
Ward said the goal would be to have the cleanup day before the summer's big community events of Tonganoxie Days and the Leavenworth County Fair.
Bixby said the best day seemed to be Saturday, June 4. He suggested May 21 as an alternative date, but noted that was a busy time of year and just a week before Tonganoxie High School's graduation.
The cleanup date remained unresolved because of concerns of a duplication of last year's experience when collected trash remained in the parking lot near the fire station for weeks after last year's cleanup. Council members were concerned a pile would remain during Tonganoxie Days.
Bixby said the pile remained on site because people didn't haul away what they said they would. A lesson learned from last year's initial cleanup would be to have those making commitments to remove appliances, scrap and other items to do so in writing, he said.
City Administrator Mike Yanez said it also was learned that the city would have to be more restrictive of what it could and couldn't accept, especially regarding paints, oils and other items classified as household hazardous waste.
Despite the need to tweak the cleanup day, council members agreed it was a success. Councilman Bill Peak said it also would be an opportunity to offer the education and encouragement Bixby said needed to be part of a comprehensive approach to cleaning up the city.