Tonganoxie baseball gets much-needed road wins vs. Turner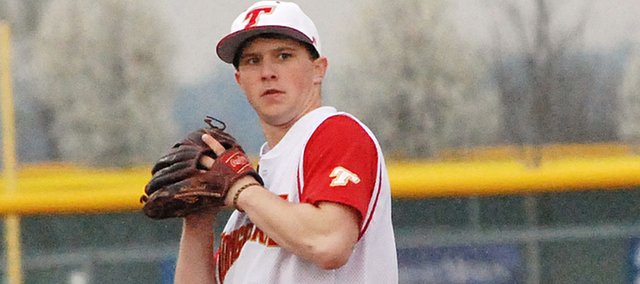 If there ever was a must-win doubleheader for the Tonganoxie High baseball team, it came Monday at Turner, in Kansas City, Kan.
The Chieftains entered the road twinbill with just one win on the season but got exactly what they needed with victories of 13-10 and 18-11.
THS coach Mitch Loomis said Tonganoxie (3-7) had to get the sweep.
"Personally, I put a lot of pressure on those games," the coach said. "I knew we had a good opportunity to win two. I knew we were a lot better team than 1-7."
The biggest swing of the night came from senior Jeremy Wagner in Game 2. With the Chieftains up 12-10 in the fifth inning, Wagner got ahead in the count and blasted a grand slam to put his team ahead by six runs.
"It was huge," Loomis said. "It was good because we capitalized on some mistakes."
The aggressive swing by Wagner, his coach added, was indicative of the approach Loomis wants THS batters taking when they're ahead in the count. He said the Chieftains took a lot of good swings against Turner, which helped them hit six doubles in the twinbill after hitting only two in the first eight games this season.
With his crucial home run, Wagner finished 4-for-8 on the night, as did Ethan Lorance. Senior Jeremy Carlisle went 4-for-5 in Game 1.
After scoring 31 runs at Turner, Loomis said he likes where his team is at — with batting, pitching and defense — halfway through the regular season.
"I feel good about where we're at in all three aspects of the game," the first-year coach said. "The kids know what they need to do and especially after (Monday) night, we know how to do it."
Tonganoxie plays host to Lansing at 6 p.m. on Tuesday.