Divine equine
Horse work helps Gee win
FFA

award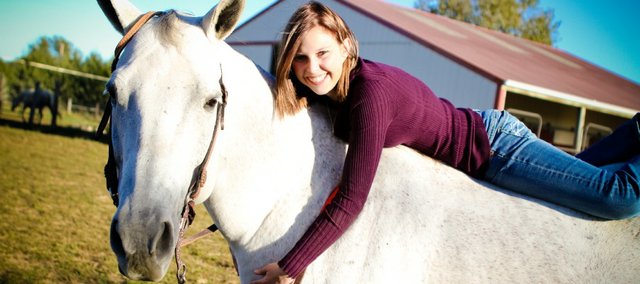 When Hannah Gee found out that she had won at the district level for the Kansas FFA Equine Science Award, there was only one thing to do: a happy dance.
She later found out that she went one step further and won the state award.
Gee, a senior at Tonganoxie High School, has won the award in her grade at the chapter level each year of high school. Later this year, she'll find out whether she is a winner at the national level, as those awards are given out at the National FFA Convention in October.
Gee has been interested in horses since she was a little girl. As part of her application, Gee had to keep track of her work, which took place at Bales Quarter Horses of Tonganoxie.
"I've just been around it all my life," Gee said about working with horses. "The opportunity came up to work at a breeding farm. I wanted to learn more about it, all the dynamics of a breeding farm."
Preparing for this year's proficiency award application, Gee started in January and had to have her information sent in by the first week of March. That meant several hours after school each week working at home and with Tonganoxie FFA adviser Randy Kraft at school.
In the proficiency category, FFA members must keep a record book of finances and other experiences while employed with a related job.
"It's pretty tough to get," Kraft said about the state proficiency award. "We've had a few who have won, but it's not like it happens all the time."
Gee's love for horses also has landed her a scholarship at Fort Scott Community College, where she will be a member of the horse judging team.
The THS senior would like to major in secondary education and minor in agricultural education. Her current aspirations are to be a high school math teacher as well as an assistant FFA adviser. Though Tonganoxie does not have such a position, she said there are other schools in the state that have the position. For instance, Paola has three different agriculture advisers.
Advising might be a few years down the road, but there still are a few months left of participation as a high school FFA member.
She became a state proficiency award winner after winning at districts, where she competed against FFA members from other eastern Kansas chapters. She will be recognized at the state convention this summer in Manhattan, an event that will be icing on the cake of her FFA career.
"I really didn't think I was going to get district," she said. "I'm not one of those people with my mind set on it and totally destroyed when I find out I didn't get it.
"My mindset is to go in thinking I don't get it but when I do, it's a happy dance."
Gee hopes to break some more jovial dance moves when national winners are announced at the national convention in October.