Fosdick clutch in Chieftains' 8-7 win
Senior's 5-
RBI

night culminates with winning single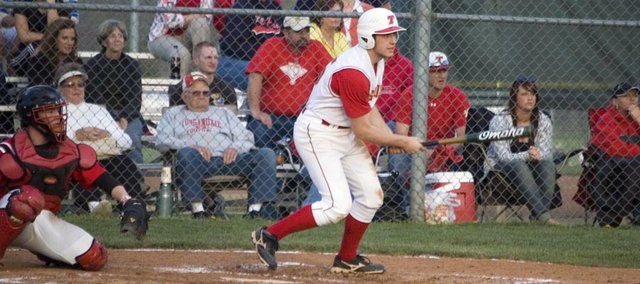 Photo Gallery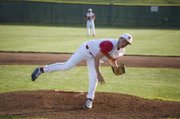 THS baseball 8, Lansing 7
The Tonganoxie High baseball team defeated Lansing, 8-7, on Tuesday at Leavenworth County Fairgrounds.
Just a couple of weeks ago, Dylan Fosdick might have been the least likely hitter on the Tonganoxie High baseball team to come up with a clutch hit.
As Chieftains coach Mitch Loomis bluntly put it, Fosdick's batting average entering Tuesday night's home game with Lansing "was pretty bad," but THS coaches had been working with Fosdick to make some subtle adjustments in his swing.
When Tonganoxie's utility player came to the plate with the bases loaded and two outs with his team down a run in the bottom of the seventh, that extra time in the batting cage paid off.
Fosdick rapped a two-run single down the right-field line at Leavenworth County Fairgrounds and THS beat the Lions, 8-7.
As soon as he saw the ball land in shallow right field, Fosdick knew both Ben Williams and Jeremy Wagner would score to give Tonganoxie (4-7) its third win in a row.
"I knew immediately. It was amazing," he said.
The first few games of the season, Fosdick admitted, had been a struggle for him offensively.
"I started off slow," he said. "The last couple of days I've gotten my swing back, leveled it out a little bit."
He had improved so much since early in the season that his teammate Dylan Puhr, who pitched all seven innings for THS in the win, knew he could trust Fosdick at the plate with the game on the line.
"As soon as he came up, I was not worried at all," Puhr said.
Given Fosdick's production against the Lions, there was more than enough reasons for him to match that confidence. He had already driven in two runs with a base hit in the second inning and plated another run for Tonganoxie with a sacrifice fly in the third.
Said Fosdick of the final at-bat of his 2-for-3, five-RBI night: "I just went up there and tried to hit the ball like I had earlier in the game."
Down a run entering their final at-bat, the Chieftains came out ready to win the game after Puhr struck out four LHS batters (one reached on a dropped third strike) in the top of the seventh. When Puhr caught the final batter looking with a curveball to secure his 11th strikeout of the night, the whole team headed back to the dugout screaming. Puhr said the scoreless frame got him and his teammates fired up and ready to mount a comeback.
"I mean we went crazy. Things happen when you start getting crazy," Puhr said. "It motivated us so much. Just getting that one play will get you going with a good baseball team like we've got."
Loomis said Puhr, a senior, has matured and become the vocal leader of the Tonganoxie dugout. The coach said the right-hander both performed and displayed confidence in his teammates.
"He really took the reins tonight and put the team on his back," Loomis said, noting Puhr's ability to throw a complete game against Lansing, a "great" hitting team that finished third at the Class 5A state tournament in 2010.
Things weren't always easy for Puhr against Lansing. The Lions scored three times in the second inning before THS recorded an out and after Puhr struck out the first two batters in the fourth, Tonganoxie allowed LHS to score twice.
"Especially in the early innings, I had to keep my head up and do my best," Puhr said. "I have the defense behind me."
The defense helped him get out of the second inning. Center fielder Jeremy Carlisle threw a runner out at third base and the inning ended with third baseman Williams diving to his left to stop a grounder.
Lansing later took a 7-6 lead in the top of the sixth, but the inning ended on a double play when Carlisle laid out for a diving snag on a long fly ball over his head. The center fielder showed the ball, briefly dropped it, then threw it in to the infield, where THS tagged third base after a Lansing runner left early, negating a sacrifice fly and another LHS run.
By playing consistently sound baseball against Lansing, Loomis said, Tonganoxie accomplished something it hadn't in previous games this season.
"That's the one thing we've really been lacking this year," the coach said. "We were good early and bad late or bad early and good late."
Instead, the Chieftains scored early and late. Lansing scored one run in the first and three in the third, but THS matched the visitors each time.
Carlisle reached home on an error in the bottom of the first and in the second, Fosdick drove in two runs and Ethan Lorance singled to get Fosdick home.
Tonganoxie took a 6-4 lead in the third with an RBI-double by Shane Levy and a Fosdick sacrifice fly.
Loomis said the quick start made the late comeback possible.
"We gave ourselves an opportunity and we finally came through with a big hit, but it's definitely those early runs that allow you to do that," the coach said.
At 6 p.m. on Monday, the Chieftains play host to Baldwin.
Tonganoxie 8, Lansing 7
LHS 1 3 0 2 0 1 0 — 7
THS 1 3 2 0 0 0 2 — 8
Tonganoxie highlights: Dylan Puhr 7 IP, 11 K's; Dylan Fosdick 2-for-3, 5 RBI, R; Shane Levy 2-for-2, 2 R, RBI; Jeremy Wagner 2-for-4, 2 R.