Better than advertised
Tonganoxie girls track team wins points title at invitational; boys finish 3rd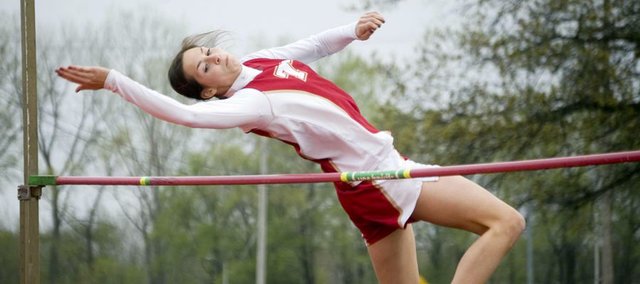 Photo Gallery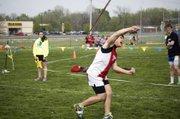 2011 Tonganoxie track invitational
Tonganoxie High's track teams played host to the annual Tonganoxie Invitational on Monday at THS. The Chieftains' girls won the team title at their home meet and the boys finished in third place.
RESCHEDULING
The Tonganoxie Invitational was scheduled to take place on Friday before cool and wet conditions led to it being moved to Monday. There will be another adaptation to the Chieftains' calendar this week. THS was originally scheduled to be at Eudora for the Cardinal Relays on Friday, but coaches found out this past week that the EHS event will instead begin at 4 p.m. Thursday.
It wasn't what Tonganoxie High girls track coach Chris Weller was expecting, but he's not complaining.
Once a cool Monday evening at the Tonganoxie Invitational came to a close, Weller was reminded that he had labeled this season a rebuilding year before the first track meet.
"I may have spoke too soon," the coach said.
The admittance came just after THS boys track coach Phil Williams, who saw his team finish third at the Chieftains' annual home meet, remarked to his counterpart that he was surprised to see Tonganoxie's girls atop the points standings.
Weller said he was surprised, too, but credited the team's strong field events for clearing the path to a team title. The THS girls won five individual events Monday and four of those victories came courtesy of field athletes — Domino Grizzle took first place in both the shot put and discus, Jenny Whitledge's mark of 5-foot-4 in the high jump won that event and Dannie Oelschlaeger was victorious in the pole vault at 8-6, six inches shy of the THS team record.
While Grizzle's two gold medals led the team, the depth of the Chieftains' throwing ranks played a significant part in the team standings.
THS throwers took four of the top five spots in shot put, with Makayla Sample placing second, Rachel Washington taking third and Holley Thompson finishing fifth.
Jo Kissinger finished second to Grizzle in the discus and Thompson was third. In the javelin, Kissinger placed second, Hannah Kemp was fourth and Grizzle was fifth.
Grizzle, the team's lone senior thrower, said she and her teammates have surpassed her expectations.
"I wasn't quite sure how we'd do as a team, in the throwing part, but it's actually going better than I thought," she said. "We're just working hard."
Weller had the same sentiment about a young high jumper.
"We've got a freshman, Haley Griffin, jumping 5-2 — unbelievable," the jumps coach said. "I mean that'll get her to state if she can make it on the first attempt."
Tonganoxie didn't get a lot of points from track events, but senior Cristina Rubio won the 400-meter dash and Kemp finished second in the 300-meter hurdles, just ahead of Whitledge, who took third.
After finishing in the top three at their first two meets of the season, the THS girls' first-place finish at the invitational, Weller said, should inspire them to keep getting better.
"I think it really raises their level of confidence and you can see it in their step and their walk," he said. "They have smiles on their face and come to compete."
The coach is smiling, too, and said it won't be easy for the Chieftains to maintain this unexpected success.
"When it comes to league, reality will probably hit," he said, "because Mill Valley's so competitive and you've got Piper and Lansing, but I am pleasantly surprised right at the moment."
Shorthanded THS boys take 3rd
Tonganoxie's boys finished behind champion Lansing and runner-up Piper at the invitational despite some key injuries.
Williams said senior Adrian Whittington, a jumper and 4x100 relay member, was out with an ailment, junior Caleb Himpel was sidelined with a groin injury, and relay runners Dan Hopkins and Jake Willis had some nagging pains that kept them from competing in relays.
Regardless, Tonganoxie's field events, Williams said, kept the team afloat, which he said should be the case all season.
"We just haven't scored much on the track all year," the coach said.
In fact, just three Tonganoxie boys scored points in track events at the home meet. Matt Briggs took first place in the 3,200-meter run, an event in which teammate Patrick Rachford finished third. Rachford placed fifth in the 1,600-meter run and freshman Evan Stilgenbauer was sixth in the 800-meter run.
This is Briggs' first season running the two-mile (3,200 meters) event for THS and his victory, Williams said, was a big one.
"He wanted to run the two-mile this year and he and Patrick Rachford have been scoring some points for us, so I've been excited about that," the coach said, "because we haven't scored too much in the mile or two-mile in the past."
THS scored a lot of points in the pole vault, with Willis securing another first-place spot, Cody Martin taking second and Ian McClellan finishing fourth. Plus, Dylan Scates won the long jump.
Throwing events brought in even more points and Dallas Jacobs led the way, winning the discus, taking third in shot put and finishing fifth in javelin.
Williams said Jacobs has improved much from last season.
"He scored a little bit for us last year, but now he's been medaling in almost every event," Williams said.
The coach said it is nice to have one athlete who can score in all three events — either that or a lot of athletes who can score in one. The Chieftains qualified for both of those scenarios Monday, because Jacobs wasn't the only thrower performing well. Lucas Ahart had a second-place javelin finish, Tyler Stockman was fourth in shot put and both Bryson Hewins (fourth) and Clayton Neas (sixth) placed in discus.
Tonganoxie's track teams compete at 4 p.m. Thursday at Eudora.
Tonganoxie Invitational
Monday at THS
Girls
Team scores: 1. Tonganoxie, 161.33; 2. Piper, 127.33; 3. Lansing, 115; 4. Christ Prep, 97.83; 5. Kansas City Christian, 56; 6. Basehor-Linwood, 49.5; 7. St. James Academy, 40.
THS results
400-meter dash — 1. Cristina Rubio, 1:03.61.
100-meter hurdles — 2. Hannah Kemp, 17.15.
300-meter hurdles — 2. Hannah Kemp, 51.54; 3. Jenny Whitledge, 52.89.
4x100 relay — 3. Jordan Weber, Hannah Kemp, Jenny Whitledge, Cristina Rubio, 54.53.
4x400 relay — 4. Cristina Rubio, Jessica Rubio, Kara Banks, Abby Thomas, 4:46.89.
4x800 relay — 5. Abby Thomas, Mackenzi Rachford, Hunter Cook, Kara Banks, 11:45.06.
Long jump — 3. Jenny Whitledge, 15-10.5.
Shot put — 1. Domino Grizzle, 36-7.5; 2. Makayla Sample, 33-5; 3. Rachel Washington, 30-2; 5. Holley Thompson, 28-7.
Discus — 1. Domino Grizzle, 102-0; 2. Jo Kissinger, 97-6; 3. Holley Thompson, 95-1.
High jump — 1. Jenny Whitledge, 5-4; 2. Haley Griffin, 5-2; tie-6. Megan Berry, 4-4.
Pole vault — 1. Dannie Oelschlaeger, 8-6; 3. Jessica Rubio, 6-6; 5. Allison Thompson, 6-6.
Javelin — 2. Jo Kissinger, 97-7; 4. Hannah Kemp, 91-1; 5. Domino Grizzle, 84-8.
Boys
Team scores: 1. Lansing, 142; 2. Piper, 124; 3. Tonganoxie, 108; 4. Christ Prep, 102; 5. Basehor-Linwood, 92; 6. St. James Academy, 71; 7. Kansas City Christian, 10.
THS results
800 meters — 6. Evan Stilgenbauer, 2:17.3.
1,600 meters — 5. Patrick Rachford, 5:11.08.
3,200 meters — 1. Matt Briggs, 10:58.68; 3. Patrick Rachford, 11:16.99.
4x800 relay — 4. Marcus Titterington, Evan Stilgenbauer, Dalton Harrington, Matt Briggs, 9:12.52.
Long jump — 1. Dylan Scates, 20-4.5.
Shot put — 3. Dallas Jacobs, 42-11; 4. Tyler Stockman, 40-11.5.
Discus — 1. Dallas Jacobs, 128-4; 4. Bryson Hewins, 122-10; 6. Clayton Neas, 115-5.
Triple jump — 2. Dylan Scates, 42-3.5; 6. Tyler Basso, 37-0.
High jump — 3. Dylan Jacobs, 5-10.
Pole vault — 1. Jake Willis, 13-0; 2. Cody Martin, 11-0; 4. Ian McClellan, 10-6.
Javelin — 2. Lucas Ahart, 158-8; 5. Dallas Jacobs, 132-2.