Chieftains bemoan
BHS

2-out rallies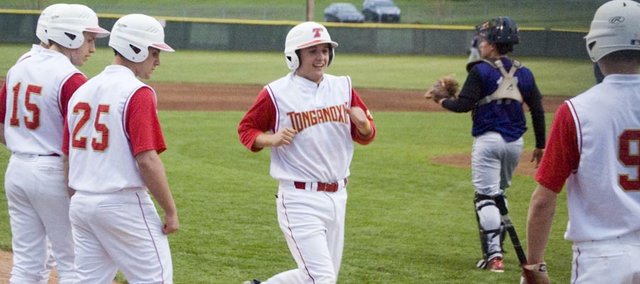 In a tight baseball game, one bad inning can be a team's undoing.
On Monday at Leavenworth County Fairgrounds, that inning was the top of the fourth for Tonganoxie High in an 11-8 home loss to previously winless Baldwin.
After starting pitcher AJ Gilbert retired the first two BHS batters to open the fourth, the Bulldogs (1-8) took control of the game with an unlikely six-run rally that began with a solo home run to center field and ended with THS using three different pitchers in search of a single out.
Tonganoxie coach Mitch Loomis said his team's inability to get out of the fourth earlier was an example of an ongoing problem the Chieftains (4-8) have had.
"That's what we've been missing this year," Loomis said. "We haven't been able to make that one pitch or one defensive play when we need it."
The first-year coach said his team struggled on the mound Monday and never was that more evident than in the fourth inning, which began with the teams tied at 4. Gilbert threw three and 2/3 innings and struck out four against Baldwin, but Loomis said the right-hander didn't have his best stuff. After Gilbert gave up two two-out runs in the fourth, lefty Austin Harkrader entered in relief, but faced just three batters, walking each of them. Loomis then turned to Justin Soetaert, who entered with the bases loaded and surrendered a three-run double. After a walk and a hit batter to re-load the bases, Soetaert finally got out of the inning with a fly ball to right field.
"We give up two-out runs like its our jobs sometimes," Loomis complained.
Loomis said his team gave Baldwin momentum early, then all the Bulldogs started hitting.
Thanks to home runs by Ethan Lorance and Jeremy Wagner in the bottom of the first inning, THS took a 3-0 lead and looked to be in the driver's seat. Loomis said the game changed in the top of the second, when BHS scored three two-out runs to tie the game.
"Our response in the bottom of the second wasn't good," Loomis said of a one-two-three inning, "and we lost the game there."
He said the biggest issue in the loss, which snapped a three-game THS winning streak, was that the Chieftains couldn't offset a rough pitching night with their hitting and defense.
"When we're not doing one facet of the game well," the coach said, "we've got to be a lot better in the other two."
After a four-hit, three-run inning in the first, Tonganoxie had just six hits in the following six innings of play.
Defensively, an error by shortstop Lorance on a two-out pop-up proved costly in the top of the second, when BHS plated three runs.
However, Loomis said he trusts Lorance in that situation.
"We know Ethan's gonna make that play 99 times out of 100," the coach said.
Tonganoxie tied the game at 4-all in the bottom of the third, when Dylan Puhr (3-for-4) led off with an infield single. Puhr got to second base on a passed ball and moved to third on a botched pick-off attempt before scoring on an error when Ben Williams hit a ground ball.
After the Bulldogs got out to a 10-4 lead, Tonganoxie got one back in the bottom of the fourth on an RBI-groundout by Tyler Freeman.
Trailing 11-5 in the fifth, Lorance knocked in Jeremy Carlisle with a double and Puhr again scored on an error.
THS scored its final run in the bottom of the sixth, when Puhr drove in Dylan Fosdick with a single to center field.
Fosdick threw two scoreless innings of relief in the sixth and seventh for Tonganoxie and struck out three.
After the disappointing loss, Loomis told the Chieftains they have a pretty unique team, which can defeat — or lose to — any team in Class 5A or 4A.
"We've just got to figure out what it is that allows us to beat Lansing," Loomis said, referring to an April 12 victory, "and lose to an 0-8 team."
At 4 p.m. Thursday, THS plays at Piper, in Kansas City, Kan.
Baldwin 11, Tonganoxie 8
BHS 0 3 1 6 1 0 0 — 11
THS 3 0 1 1 2 1 0 — 8
Tonganoxie highlights: Dylan Puhr 3-for-4, 2 R, RBI; Ethan Lorance 2-for-4, HR, 2 RBI; Shane Levy 2-for-4, R; Jeremy Wagner 1-for-4, HR, 2 RBI.