THS

soccer again beats Ward by 6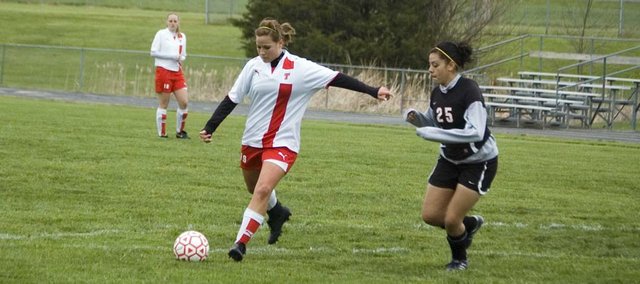 Photo Gallery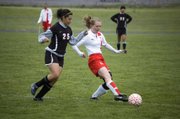 THS soccer 7, Bishop Ward 1
Tonganoxie High's girls soccer team defeated Bishop Ward for the second time in a row on Tuesday. The Chieftains won 7-1.
After suffering through a six-match losing streak to open the season, Tonganoxie High's girls soccer team didn't mind playing Bishop Ward for the second time in a row Tuesday.
Exactly one week after the Chieftains defeated Ward on the road to break their losing streak, they secured their second win in a row with a 7-1 home victory against the Cyclones.
THS coach Justin Seever, having watched his team beat Ward, 6-0, a week before, knew Tuesday's match would allow the players to build upon the things they have been working on in practice.
"This game's good, because we have a lot more time on the ball," the coach said.
Without facing much pressure, the Chieftains (2-6) were able to focus on passing and being aggressive. The biggest benefactor of that style of play was senior Ashley Kotowske, the first player to score in the home win.
Kotowske controlled the ball in the box and made a quick move to her right in the ninth minute to get an easy score and put her team ahead, 1-0.
By the end of the match, she scored two more goals for a hat trick, the first of her THS career.
The senior forward said the match against Ward almost served as a scrimmage and opened up a lot of possibilities for Tonganoxie. She said the THS offense was much more effective against Ward than in its first six matches, when the Chieftains played tougher teams such as Spring Hill, Mill Valley and Piper.
"A lot of times we just kick and we don't have time to think because we have so much pressure on us," Kotowske said.
That wasn't the case against the Cyclones, though. Tonganoxie focused on passing and Kotowske credited teammate Molly Welsh for making an "awesome" assist on her final goal of the match.
"That was what we've been working on and it's starting to get put together," Kotowske said.
In total, five players scored for THS. Freshman Madison Simmons put her team ahead 2-0 in the 16th minute and goals by Alissa Donnelly, Welsh and Aly Bartholomew gave the Chieftains a six-goal margin in back-to-back matches.
Welsh, Donnelly and Emily Soetaert each had an assist in the win.
With a victory certain, Seever wasn't concerned with maintaining the status quo — "Ashley had a hat trick, there's no sense in trying to run up the score with her," he said. Instead, the first-year coach moved some players to different positions and experimented with some variant lineups.
Kotowske said she was impressed by Bartholomew, a freshman who usually plays defense.
"We switched a lot of people around and Aly Bartholomew did really well in midfield," her teammate said.
By the end of the match, Seever got to watch younger players in new roles.
"It was good to get people to try new things," the coach said. "We had girls who generally only play JV minutes getting almost a full half of varsity time."
The learning experience of consecutive victories should help THS, Seever said.
"We're a young team. A young program, skill-wise, in the grand scheme of things," the coach said. "We need games like this to try to figure out how to play soccer."
Next up, Tonganoxie will play on consecutive nights, with a 6:30 p.m. Thursday road match at Kansas City Christian and a 4 p.m. Friday home date with Blue Valley Southwest.