Pitchers lead
THS

baseball to split at Piper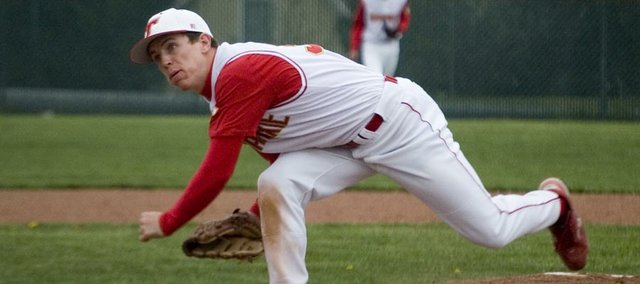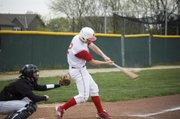 Kansas City, Kan. — Even without much offense Thursday at Piper High, the Tonganoxie baseball team was able to split a road doubleheader against the Pirates thanks to its pitching staff.
The Chieftains lost an eight-inning Game 1, 2-1, and rebounded with a 4-2 victory in the second portion of the twinbill.
For the afternoon, starting pitchers Jeremy Carlisle and Dylan Puhr and reliever Ethan Lorance combined to throw 15 innings and allow just four Piper runs.
Carlisle, who threw all eight innings in the extra-inning loss, didn't make many mistakes — the left-handed senior gave up just three hits, struck out five, walked one batter and hit two others.
However, Tonganoxie's offense, which had four more hits than PHS in the loss, could only produce one run (Puhr drove in Austin Harkrader on a bloop single to shallow center field in the top of the fifth).
After the Chieftains fell behind, 1-0, in the bottom of the second, Carlisle retired eight straight batters. He faced 23 consecutive batters without giving up a hit, but a Piper double in the bottom of the eighth broke that streak and plated the winning run for PHS.
Puhr started on the bump in Game 2 and only allowed a pair of runs in five innings of work.
Lorance relieved Puhr in the bottom of the sixth inning. After allowing a walk and a hit to give Piper two base runners, Lorance retired five straight to end the game, fanning three Pirates in the process.
THS (5-9) scored enough runs in the top of the first inning to win Game 2. Carlisle led off the game with a walk and, following a Lorance single, scored on a base hit by Ben Williams.
Tonganoxie took a 3-0 lead when Shane Levy delivered a two-run double to left field.
The Chieftains extended their lead to four runs in the top of the second. Carlisle singled and advanced to second base on a sacrifice bunt by Puhr. After reaching third base on a grounder hit by Lorance, Carlisle scored when Lorance stole second base and the throw by Piper's catcher went into center field.
With a two-run road victory, THS handed Piper its first Kaw Valley League loss of the season. The Pirates are now 8-1 in the KVL. The Chieftains' KVL record currently stands at 4-6.
Tonganoxie will return to Leavenworth County Fairgrounds for a 6 p.m. Tuesday game against Lansing.
Game1: Piper 2, Tonganoxie 1 (8 innings)
THS 0 0 0 0 1 0 0 0 — 1
PHS 0 1 0 0 0 0 0 1 — 2
Tonganoxie highlights: Dylan Puhr 2-for-4, RBI; Jeremy Carlisle 2-for-3, double; Ethan Lorance 1-for-3, double.
Game2: Tonganoxie 4, Piper 2
THS 3 1 0 0 0 0 0 — 4
PHS 0 0 2 0 0 0 0 — 2
Tonganoxie highlights: Jeremy Carlisle 1-for-3, 2 R; Shane Levy 1-for-3, 2 RBI-double; Ben Williams 1-for-4, RBI, R.