Tonganoxie High grad leading charge for Earth Day photo at K-State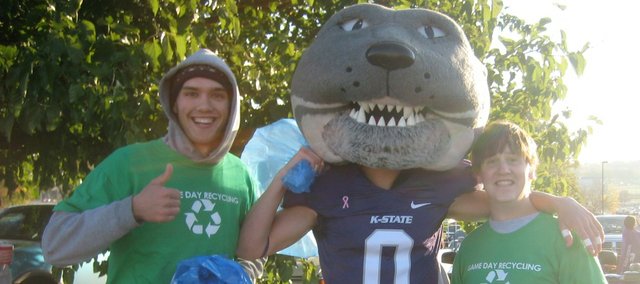 Zack Pistora wants to fit the whole world into a Kansas State University stadium — with the help of hundreds of fellow KSU students.
Pistora, a 2006 Tonganoxie High School graduate, is president of Students for Environmental Action at K-State. He said the group is planning a mob photo at 1:30 p.m. Friday, April 22 at Memorial Stadium in honor of Earth Day. The stadium is at Anderson and Denison avenues on the southwest corner of the KSU campus.
Students have been asked to wear either purple or green shirts for the photo — the green will represent continents and purple the oceans as if it were a photo taken from space.
"We'll rush people in purple and green shirts in and form Earth," Pistora said. "It's predesigned. We just have to fill in the people."
The Facebook page for the KSU Earth Day Celebration, as of Thursday afternoon, had about 500 people planning to attend and another 250 who possibly were attending. Pistora said he has hopes of 1,000-1,500 people participating in the photo. He noted the stadium has green artificial turf, which will assist with forming the "ocean" areas, if needed.
"We can use the green to fill in if we need to, but I think we will be fine," Pistora said.
The photo project is in conjunction with SEA's Earth Day Festival and Trade Show from 10 a.m.-1 p.m. tomorrow at Bosco Plaza near the K-State Union. Roughly 20 Earth-friendly campus and community organizations will be at the festival, Pistora said.
At 1 p.m., people interested in participating in the earth photo can start lining up outside the stadium, which is near the union.
Now in his third year with SEA, Pistora said doing environmental activism and non-profit work with the club is what he appreciates most about the organization.
The club, which has about 30 students regularly meet, has worked with K-State Facilities to encourage recycling at K-State football games by providing blue bins for aluminum and plastic containers to be recycled.
He said the group chats with fans at games in an effort to encourage recycling.
"The more you drink, the more you recycle," Pistora said, joking about talking with fans about recycling. "That kind of mentality works pretty well."
At home K-State football games, the group collects, on average, a ton of recyclable aluminum and plastic.
Pistora said SEA will be partnering with the facilities department again tomorrow — they'll use a cherry picker truck to take the K-State earth photo.
Pistora is majoring in political science with minors in women's studies and nonprofit leadership and plans to graduate next month.
"It's encouraging to have the younger students get excited and fired up and carry on the club after I'm done," Pistora said.
Students and faculty have been invited for the photo, but anyone interested in joining for the photo is welcome as well, Pistora said.