Tonganoxie City Council April 25 agenda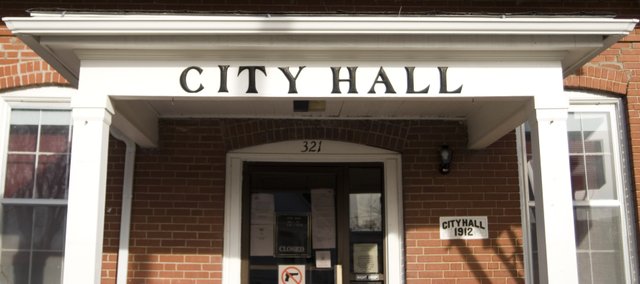 Open Meeting – 7:00 p.m.
Consent Agenda
a) Approval of Minutes –
Regular Meeting dated April 11, 2011
Special Meeting dated April 14, 2011
Special Meeting dated April 19, 2011
b) Consider Approval of Bills - Approve Pay Ordinance A-1656
c) Consider appropriation to Bingham's Landscaping in the amount of $7,640.44 for work completed as contracted.
d) Consider appropriation to Commercial Waterproofing in the amount of $17,060.00 to mobilize, prep and coat main pool per specifications.
e) Consider appropriation of $3,007.00 to Evans Real Estate for Ambulance Malpractice Insurance through EMC Insurance.
Open Agenda
"Members of the public are welcome to use this time to comment about any matter relating to City business. The comments that are discussed under Open Agenda may or may not be acted upon by the Council during this meeting. Please wait to be recognized by the Mayor, then state your name and address and all comments are to be directed to the chair."
Old Business
a) Discuss Chapter 2 of the Tonganoxie City Code – Animal Control and Regulation
New Business
a) Chamber President Donna Hoegler and Connie Tornedon – Tonganoxie Days report
b) Consider authorizing the Mayor to sign a Memorandum of Understanding between the City and Smith Veterinary Clinic to provide for the installation of an overflow animal shelter.
c) Chief of Police, Jeff Brandau, Budget Considerations and discussion
d) Discussion concerning a new Police Facility, that will house a Fire Annex
e) Consider authorizing the purchase of a Telephone System for the Police Department
f) Any Additional discussion Chapter 8 Health and Welfare (Nuisance) and 14 (Traffic).
g) City Administrator Agenda, City Administrator Report

1) Cost of Living Survey Results

2) Public Wholesale Water Supply District #6 discussion
3) Consolidation of Bucher Willis & Ratliff Corporation and HW Lochner, Inc
h) City Attorney Agenda

i) Mayor Agenda
j) Council President Agenda
k) City Council Agenda

Adjourn
Information & Communications (No Action Required)

a) Public Wholesale Water Supply District #6 Meeting minutes
b) Tonganoxie USD 464 Board Meeting Summary