Back in action
McLouth High senior's running prosthetic has him feeling like himself again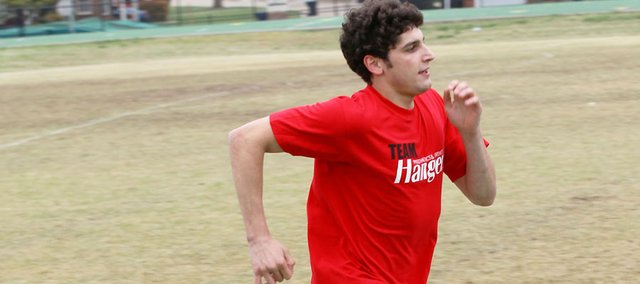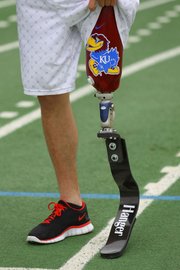 C-LEG
In early April, Trevor Roberts also was fitted by local Hanger Prosthetics & Orthotics practitioner Matt Luetke with a microprocessor-controlled prosthetic called the C-Leg — "This leg's more like my everyday leg," Roberts said.
According to a Hanger release, the C-Leg uses on-board sensors and microprocessors to anticipate and adapt to a person's movement. It immediately adjusts 50 times per second to changes in walking speed and direction, providing knee stability the moment it is needed.
With the C-Leg, Roberts said, he isn't nervous when he approaches a flight of stairs or a hill.
"It's a big difference from my previous leg, the first leg I had when I got out of the hospital," he said. "This one, it's a lot more stable. I can trust it a lot more."
Added Luetke: "The more Trevor gets used to how it responds to whatever environment he's in, the more Trevor's gonna trust it and continue to keep moving forward, get better and better."
A physically gifted high school athlete, Trevor Roberts once manned the post for McLouth High's boys basketball team and served as a multi-purpose weapon for MHS football, reaching the end zone via carries, receptions and returns.
A senior with skills to spare, Roberts was used to being part of the action.
That all changed in the fall of 2010. During a Sept. 24 football game at Sunrise Christian Academy, in Bel Aire, after racking up 193 total yards and three touchdowns in the first half, Roberts suffered a compound fracture in his lower left leg.
The severe injury required surgery. A titanium rod was placed in Roberts' leg, but soon after, complications arose. A few days later, Roberts ran a fever. Gangrene was detected in his wound. Less than a week after breaking his left tibia and fibula, his leg had to be amputated above the knee.
Living as a high school amputee and victim of a freak football accident, Roberts gained local and national media attention and was named an honorary member of the All-Simone Team for Kansas prep football players as well as a national semifinalist for the 2010 High School Football Rudy Awards. He even got to walk on the field at Arrowhead Stadium before a Kansas City Chiefs game.
As he came to terms with his injury and became a local celebrity, though, there was one thing Roberts seemingly couldn't handle — not competing.
When the basketball season started for the Bulldogs this past winter, Roberts, a power forward as a junior, couldn't bear being a spectator as a senior.
"I didn't really like watching the basketball games," he admitted. "They were just stressing. I just wanted to be out there playing."
Part of his flesh and bone was gone but the full-fledged competitiveness of an athlete lived on inside. Roberts wasn't used to being on the sideline. It wasn't for him.
Getting back to normal
Not long after losing his left leg, Roberts was fitted for and began wearing a prosthetic. It was basic. It helped him get around, but it didn't allow for much mobility.
His inactivity became frustrating. Roberts longed for his days of football and basketball and was desperate to do something — anything — that involved running and moving.
"I knew there was running legs out there, and I was like, 'Man, I want one of those,'" he related.
Thanks to donations from nearby and nationwide, Roberts eventually got the upgraded running leg that would help him become an athlete once more. The last week of March, he traveled with his prosthetist, Matt Luetke, to Oklahoma City, where he was fitted by Hanger Prosthetics and Orthotics with a custom-designed prosthetic leg made specifically for running.
In Oklahoma City, Roberts met specialists who critiqued him on how to improve his running — he had previously tried jogging on his first prosthetic. He even met a triple amputee named Cameron Clapp, who helped him adjust to his new running leg, which doesn't have a traditional shape or require a shoe. The black prosthetic is a few inches wide, relatively flat and curves to give Roberts the kind of bounce he needs to run.
"When I got the legitimate running leg and hooked it on, I just took off," Roberts said. "It didn't take too much getting used to."
With a proper running leg in place, Roberts finally felt like himself again, and couldn't be happier with his new athletic prosthetic.
"Running, it feels actually pretty natural, because this leg springs and compresses and gives me output when I step on it," he said.
The only limitations with the leg, Roberts noted, are that he can really only travel north and south with sudden cuts, left or right, not really possible and he can't abruptly halt his progress.
"It takes me a little bit to stop. I can't just hit the brakes," he said.
Training for the future
Ready to get back to competition, Roberts began practicing with the MHS track team once he returned from Oklahoma City. He soon learned how much conditioning it would take him to get up to speed after his time away from sports.
"I'm just trying to get in shape still, because I haven't been too active since when I was playing football," he said.
Though Roberts initially hoped to end his senior year as a member of McLouth's track team, he decided that would be a bit much for him after workouts left him very sore.
He hasn't stopped training, though. Roberts still goes through conditioning by himself at Stan Braksick Stadium, preparing for his next step as an athlete.
In June, Roberts plans to compete at the Endeavor Games in Edmond, Okla. The University of Central Oklahoma plays host to the annual event for athletes with physical disabilities.
"I'm really looking forward to that," Roberts said.
As he trains at the MHS track, Roberts envisions competing in sprint events this summer and maybe trying out the long jump. His main objectives are to get used to his leg, critique himself and get in shape.
"I don't want to show up and make a fool of myself," he said with a grin.
This whole life-altering experience, Roberts added, has given him a new appreciation for little things, such as practice or being a part of a team, which he misses. Now that he can run, he feels like himself again.
Just like before his injury, Roberts is an athlete.
"I don't take it for granted anymore," he said.