Chieftains baseball responds to extra-inning loss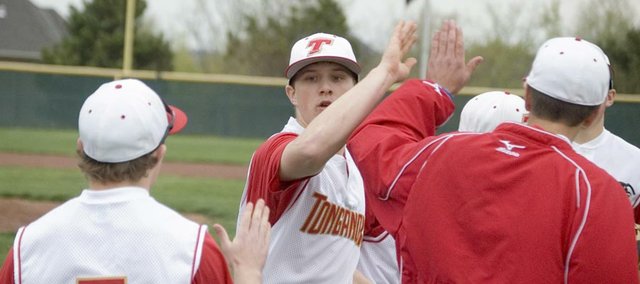 Kansas City, Kan. — Losing record or not, Tonganoxie High's baseball team proved again Thursday it is capable of beating just about any team on its schedule.
Fueled by an extra-inning loss at Piper in the first game of a doubleheader, the Chieftains also showed they can positively respond to adversity.
Following a 2-1, eight-inning loss to a Pirates team that was previously unbeaten in Kaw Valley League play, THS rode a hot first inning to a 4-2 road victory.
While seven Tonganoxie hits in Game 1 produced a single run, the Chieftains (5-9) scored three runs on three hits in the top of the first inning in Game 2.
After senior Jeremy Carlisle led off the second game with a walk, back-to-back singles from Ethan Lorance and Ben Williams led to a 1-0 advantage. Then Shane Levy knocked in two more THS runs with a double to left field.
Tonganoxie coach Mitch Loomis told his players in between games that they needed to start Game 2 with a bang, offensively.
"I said we've got to come out and really set a new tone, because we were doing all right the first game, but we just weren't good," Loomis said. "And we came out in the first inning swinging pretty well. That's huge for us, because that's a corner I don't think we've turned this year. It was nice to see."
The Chieftains scored one more run in the top of the second. After reaching base with a single, Carlisle eventually scored from third with two outs when Lorance stole second base and an errant throw to catch him ended up in center field, giving the visitors a four-run lead.
Lorance said his team did what it had to at the plate after a tough, low-scoring loss in Game 1.
"That was the biggest thing, to come back hot, get the bats going again," he said. "We did pretty good in the first inning, came back in the second inning, got another run. So we answered pretty good, but then we kind of fell back asleep as far as the bats go."
Four runs, though, were enough for a victory thanks to Tonganoxie's pitching. Loomis hoped that would be the case.
"I definitely felt good, because I knew we had Dylan (Puhr) going and he's been battling for us," the coach said of the Game 2 starting pitcher. "I knew we had Ethan in the pen, so I knew our pitching set up nice."
Puhr, Loomis noted, was a little banged up, but he threw five innings and PHS only was able to score two runs in the bottom of the third.
"We didn't give them a lot of free runners and we made a play when a base runner got on," Loomis said. "We didn't let them string two or three hits together."
Lorance relieved Puhr in the bottom of the sixth and went on to strike out three batters while giving up just one hit and a walk in two innings of work.
The senior's relief capped a twinbill full of solid pitching. Carlisle threw all eight innings of Game 1, allowed just three hits and a walk and struck out five.
According to Lorance, Carlisle set the bar high for THS pitchers at Piper.
"Jeremy, he threw phenomenal," Lorance said. "That's really one of the best hitting teams in our league."
The victory against PHS, Loomis said, felt a lot like Tonganoxie's April 12 win against Lansing, another top KVL team. He said the Chieftains need to play like that every time they take the field.
"We've just got to learn how to win," Loomis said. "It was nice to see us play a great first game, not come out on top, then come back with a quick response."
By avoiding the wrong end of a sweep, Lorance said THS took a step in the right direction.
"It makes us look up again, especially since we got on the winning side," the senior shortstop said. "We've just got to come back and start winning more."
THS plays host to Lansing at 6 p.m. on Tuesday.
On Thursday, Friday and Saturday, the Chieftains will be at CommunityAmerica Ballpark in Kansas City, Kan., for the Butch Foster Memorial Baseball Classic.
Game1: Piper 2, Tonganoxie 1 (8 innings)
THS 0 0 0 0 1 0 0 0 — 1
PHS 0 1 0 0 0 0 0 1 — 2
Tonganoxie highlights: Dylan Puhr 2-for-4, RBI; Jeremy Carlisle 2-for-3, double; Ethan Lorance 1-for-3, double.
Game2: Tonganoxie 4, Piper 2
THS 3 1 0 0 0 0 0 — 4
PHS 0 0 2 0 0 0 0 — 2
Tonganoxie highlights: Jeremy Carlisle 1-for-3, 2 R; Shane Levy 1-for-3, 2 RBI-double; Ben Williams 1-for-4, RBI, R.