Family atmosphere to be focus of couple's new Tonganoxie restaurant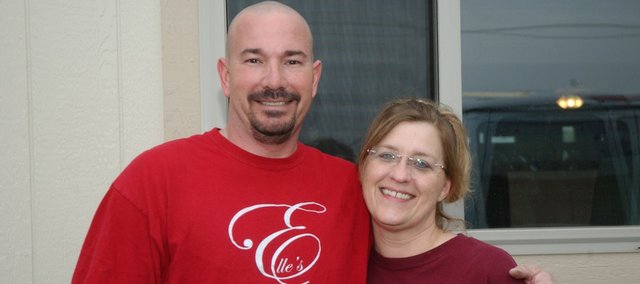 The name of Rik and Leisa Perkins' new restaurant may seem a contradiction.
Leisa insists the new restaurant named Elle's Diner is her husband's "baby."
But in other respects, the name is fitting. It pays homage to the successful Elle's Bakery and Bistro, which the couple opened downtown in August 2010.
It was there, Rik said, that he and his wife learned there was a demand in Tonganoxie for a diner serving quality food at affordable prices, a demand the downtown bistro couldn't satisfy.
"There are just so many things our customers told us they wanted we couldn't do down there," he said. "This gives us more options. With the bigger grills and fryers we can do what we do now and much more."
The downtown bistro will operate unchanged with the opening of the new diner at the U.S. Highway 24-40 location known to a generation of Tonganoxie residents as the former site of Corky's, Rik said. The bistro has developed a successful niche, and the diner is not suitable for a bakery, he said.
Nor does the prospect of running both the bistro and diner concern the Perkins.
"We're hard workers, very driven," Leisa said. "We also work very well together."
They've put considerable work into the diner already. During the past few weeks, the couple have had the restaurant painted inside and outside, installed new carpet and given it an intense cleaning.
"There was a whole lot of cleanup," Rik said. "We're setting it up so it will be more like Elle's. One of the things we take pride in and customers have commented on is how clean the bakery is."
The Perkins said they also want to duplicate the family atmosphere of the bakery at the diner. That effort will get a boost from sons Chris Clark, who will be the diner's head cook, and Tyler Basso, who will lend his many talents to multiple tasks.
Further enhancing the family atmosphere will be its no-alcohol policy and the plan to serve Sunday dinners "family-style," with food served in bowls or platters for family members to dole out rather than ordering individual portions on a plate, Rik said.
"Just like you had growing up, when Mom would put a big old bowl of mashed potatoes and corn on the table," he said. "If Pop wants four pieces of chicken and his son wants a leg, they can decide what to take."

Clark said the menu will be "American food with a few signature items." One of those would be homemade deep-fried cheesecake, he promised.
"I'm really big on having things brought out to me as I ask for them," he said. "I'm big on people leaving full. I don't want people to go get a hamburger just to fill up."
Elle's Diner will be open from 6 a.m. to 8 p.m. Monday through Thursday with later hours on the weekend.