Local jewelry maker following family tradition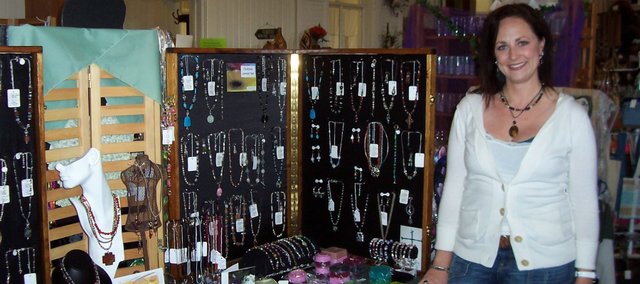 Emily Foster is fearless when making jewelry.
"I'm not afraid to try anything," she said. "Creativity is what people comment on. The combination of materials I use are sometimes unlikely, but it works.
"The uniqueness of my product is what allowed me to sell it as long as I have," she said.
Foster began making jewelry eight years ago with the birth of the youngest of her two sons. At first, she made pieces for herself, family and friends. When those were well-received, she began exploring ways to market her work.
Although she had not explored the visual arts while going to high school in Lawrence or while earning a bachelor's degree in business administration at Cameron University in Lawton, Okla., her move into jewelry may have been inevitable. Her great-grandmother and grandmother made jewelry, as does her sister, who graduated from the Los Angeles Fashion Institute of Design and Merchandising in Los Angeles.
"Grandmother used to make jewelry and went to craft sales," she said. "She mailed me a huge box of beads and different patterns of how to make jewelry. I still have a lot of things she made for me when I was a little girl."
Foster says she's self-taught and still works in an unconventional way. Most people make careful measurements and count out stones and other elements before starting a piece.
"That's not how I do it," she said. "I get out the beading wire and start. I make asymmetrical pieces and patterns within patterns that can sometimes be hard to see."
Her work is influenced by Native American art and incorporates turquoise and other natural stones. She also uses a lot of oxidized metals and occasionally leather.
She does go to craft shows but she now prefers to market through boutiques where women can coordinate clothing and accessory purchases, Foster said. Her jewelry is available locally at H Avenue in Tonganoxie and the Bauhaus in downtown Lawrence as well as stores in San Diego, where she lived with her career Army husband, Dave, before moving to Tonganoxie with his transfer to Fort Leavenworth.
Her goal is to provide quality jewelry at an affordable price and she orders stones in large quantities to help keep prices down, Foster said.
"I've had people tell me my prices are really good," she said. "There's not a huge markup, because for me the thrill is to have someone buy and wear my work."
It was the opportunity to find more boutique outlets that led Foster at the encouragement of Kansas Sampler Festival director Keyta Kelly to get a booth at this year's festival, which will be May 7 and 8 at Ray Miller Park in Leavenworth.
"I heard from Keyta there would be storeowners there looking for artists to include in their stores," she said.
That interest has somewhat waned with news she has been admitted to a master's degree program in social work starting next fall. Her studies will leave her less time for her jewelry business, but Foster said she would continue to provide pieces for H Avenue, Bauhaus and other select outlets, which continue to give her satisfaction from her work.
"It's good to support local businesses," she said. "The joy is when you run into somebody in public and they are wearing something you made. For someone to like what you made, buy it and wear it, it's a kick."