Stable relationship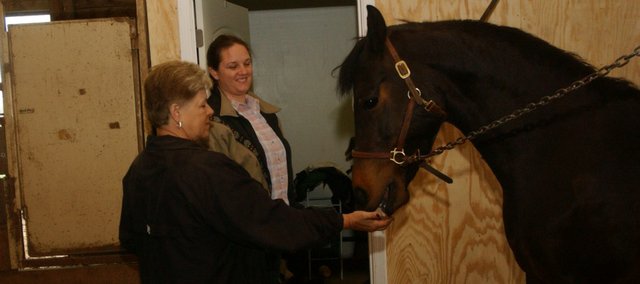 Over coffee a recent morning in her horse barn west of Tonganoxie, Valerie Francis admitted with a little embarrassment she didn't know exactly how many horses she now owns.
"I own about 25," she said. "That's not the most I've ever owned."
Laughing, Laureli Orona, the trainer at Francis' Moriah Training Center, quickly ducks into an office at the barn to confirm Francis does indeed own 25 horses.
A person doesn't have that many without being a horse lover, and Francis said the animal has been a lifelong passion.
"I was born that way," she said. "I was one of those little kids from the beginning of time who was crazy about horses. I can't remember when I wasn't."
But with her earliest years spent near downtown Kansas City, Kan., her dream of moving from horse lover to owner was frustrated. When that situation didn't change with her family's move to a Wyandotte County suburb, Francis hung out at barns doing what she could to be around the animals she loved until she could have a horse of her own.
"I was an adult when I got my first horse in 1980," she said. "I worked for a man who had horses. He had a 2-year-old mare for sale."
Her first horse was a Morgan, as have been nearly all that followed. And if Francis couldn't pinpoint the number of horses she owns, she knows all but two are Morgans.
The Morgan was one of the first horse breeds developed in the United States, tracing back to the stallion Figure owned by Justin Morgan of Vermont. Foremost among the attractions of the compact, sturdy breed was its versatility, which allowed the Morgan to work in farm fields, be harnessed to the family buggy on Sunday for a church outing and ridden — and win — races in the afternoon after services, Francis said.
Morgans remain versatile today and can excel in such things as trail riding, English and Western competitive events, jumping, dressage, and carriage or buggy driving (a favorite of Francis).
"If you can only have one horse, go get a Morgan," Orona said. "They can do everything."
Its intelligence and good looks also accounted for the breed's early popularity, and more than 200 years later the qualities still enchant Francis.
"They are extremely intelligent and beautiful," she said. "My philosophy is if you're going to own a horse, it should be pleasing to look at.
"I've never, ever regretted buying Morgans."
Since buying her first Morgan, Francis has done her part to advance the breed — first at a barn in Basehor and the last 15 years at her Tonganoxie farm. She has and continues to participate in regional and national shows and is regular each October at the Morgan Grand National World Championship in Oklahoma City.
With the support of her husband, Dean, she and her horses have won too many championships "to even try to remember," Francis said. She has been named the nation's No. 1 Morgan breeder by the United State Equestrian Federation, had several top horses of the year by the same organization and had the stallion who was the foundation of her stable named one of the top-10 producing stallions based on how well his offspring did in the show ring.
With the show season just starting, she will attend one to two shows a month through October, Francis said. But she also has a goal of adding a children's focus to the "adult" Moriah's activities.
Orona is a part of that change. She came to Moriah about 18 months ago, succeeding Michael Graham, the barn's trainer of 14 years who Francis said grew up attending horse shows with her four children.
The California-raised Orona has been a professional trainer for 11 years and was working at a north Kansas City barn when Francis' insurance agent told her there might be an opening at Moriah.
"It worked out great," Francis said. "Things have improved here dramatically."
Together the two women are working share their love of horses with a new generation by starting a one-day-a-week horse camp for the summer, Francis said.
"We would teach them everything they need to know to get a horse groomed, saddled and ready to ride that horse," she said. "If they have a horse of their own they want to bring, that's great. If not, we will provide one."
Orona, who has ran two- and three-day "intense" day camps for children, said the Moriah camp would prepare youngsters to show horses on the local level.
"It would get them ready to show for 4-H shows," she said. "It does no use to teach them to get ready at the national level. They're not at that level. We would help them learn what the need to have success on the local level so they can move on."
Those interested in the camp can call Francis at (913) 269-5250 or visit the farm at 23659 Parallel Rd.