Tonganoxie runner makes it to Boston Marathon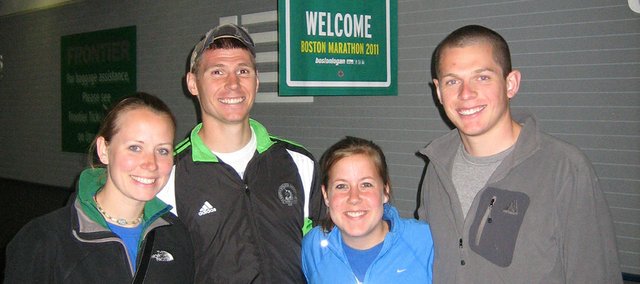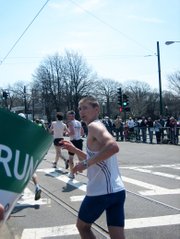 Levi Huseman never considered himself a marathon runner.
Sure, he ran distance races as a track team miler and cross country runner in his days at Kansas University, but the 2005 Tonganoxie High graduate was always focused on the shorter end of the long-distance race spectrum.
When a college buddy brought up the idea of competing in one of the world's most famous marathons, though, Huseman couldn't resist.
On April 18, the 23-year-old Tonganoxie man ran the second marathon of his life at one of the world's great races, the Boston Marathon — Huseman's first marathon, this past October in Kansas City, Mo., qualified him for the renowned race.
Training at KU, Huseman said, made it easy to transition to marathons once his friend Diego Dilladron, another Jayhawks runner, convinced him they should try to qualify for the Boston Marathon. Huseman said he would run 90-95 miles a week in college, so he was familiar with logging major mileage on his sneakers.
Unfortunately for Huseman, a first-year physics and chemistry instructor (and assistant track coach) at Olathe North, his new profession was pretty time consuming — "I really wasn't running at all," Huseman said — and he had trouble finding time to train prior to the KC marathon.
Though he only prepared for about two weeks, his time of 3:06:59 at his first marathon qualified him for Boston, which was the goal. Dilladron, meanwhile, qualified at a race in San Francisco.
The next step was to register for Boston and secure two of the roughly 27,000 spots in the race. Huseman and Dilladron beat the rush, became official entrants and booked a flight to Boston, which they shared with Huseman's two Kansas City Marathon companions — his girlfriend, Lindsey Wiegele, and her friend Alyssa Auld.
For Boston, Huseman knew he needed more training. He prepared for the mega race by logging about eight miles a day and typically ran a longer distance once a week — the longest being a 20-mile path from his home in Tonganoxie to Lawrence.
It paid off. Huseman ran the 26.2-mile road course through the New England metropolis in 2:58:35. He was the fourth Kansan to cross the finish line, 1,309th overall, 1,216th among males and 884th in his division (males, 18-44).
"It was incredible," Huseman said of running in the world famous race. "There were lots of people. I mean you honestly felt like you were packed in shoulder to shoulder."
Huseman said he would come to a crest on some hills and look for what should be a road, but people's heads were all he could see in front of him — a far cry from his Kansas City experience, where he was all alone for parts of the race.
Heading into the Boston Marathon, Huseman wanted to finish under the three-hour mark. He started out with a slow pace and gradually sped up the entire race.
As he ran in an old Kansas jersey — which brought on both cheers of "go, Kansas" and "rock chalk" as well as a "VCU" jeer — Huseman kept counting down the miles on his watch and felt good about reaching his goal.
"Toward the end I was pretty sure I could do it," he said.
To make the day a little sweeter, on his way to meeting his goal, Huseman caught up with and passed his pal Dilladron.
Not bad for someone who once considered himself a miler.