Lansing ruins
THS

baseball Senior Night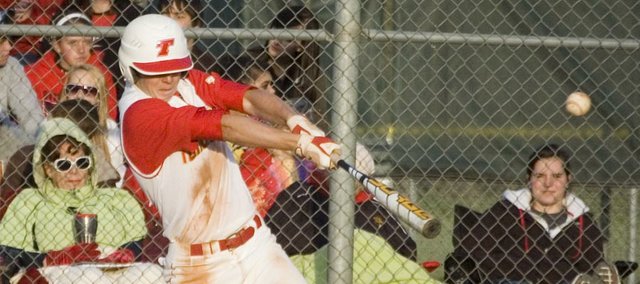 Senior Night came pretty early in the schedule for the Tonganoxie High baseball team this year.
The Chieftains will have plenty of games left to help erase the memory of a 10-2 loss to Lansing in their home finale.
THS (5-10) trailed 4-0 before the completion of the first inning and its two-run answer in the bottom of the opening frame proved to be the home team's only scoring on the night.
With four hits, two walks and four runs off of Tonganoxie starting pitcher AJ Gilbert in the top of the first, Lansing (10-4) took control of the game early.
Down four runs entering their first at-bat, the Chieftains were able to respond briefly. Senior center fielder Jeremy Carlisle led off the inning with a walk before stealing second base and advancing to third on the play when Lansing starting pitcher Scott Moore threw the ball away trying to pick off Carlisle.
Ethan Lorance drove in his teammate with a double to the left-field gap.
Lorance then scored when Ben Williams hit a grounder to shortstop and the throw got away from the Lions' first baseman.
Although Shane Levy doubled to give THS two runners in scoring position with one out, both runners were stranded and Tonganoxie never crossed the plate again the remainder of the night.
LHS scored twice more in the top of the second to extend its lead back to four and piled on two more runs in both the fifth and seventh innings.
THS finished with a 1-6 home record at Leavenworth County Fairgrounds during the regular season.
Tonganoxie will play Thursday, Friday and Saturday at the Butch Foster Memorial Baseball Classic in Kansas City, Kan. The Chieftains open the three-day tournament at 2:30 p.m. Thursday against Holton.
Lansing 10, Tonganoxie 2
LHS 4 2 0 0 2 0 2 — 10
THS 2 0 0 0 0 0 0 — 2
Tonganoxie highlights: Ethan Lorance 1-for-3, RBI-double, R; Jeremy Carlisle 1-for-3, R; Tyler Freeman 2-for-3.