Home runs help, hurt Tonganoxie softball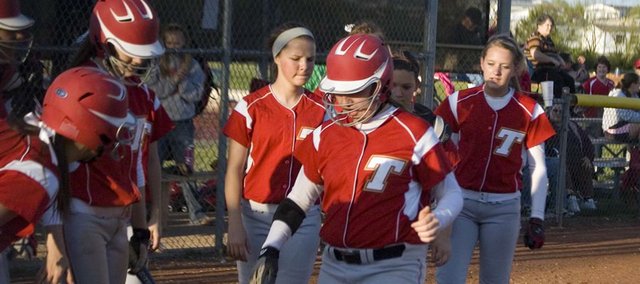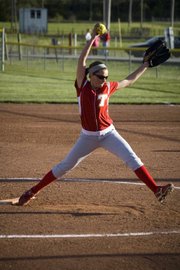 The value of the long ball was on display Thursday at Leavenworth County Fairgrounds.
A couple of shots over the fence helped the Tonganoxie High softball team beat Lansing, 6-2, in the first game of a doubleheader before the Lions hit three bombs in Game 2 and defeated THS, 18-7, in six innings.
All six of the Chieftains' runs in Game 1 came on just two swings of the bat. Both Amanda Holroyd and Tiffany Jacobs hit three-run home runs to split the home team's six RBI.
Though Holroyd, a junior third baseman, would hit another three-run homer in the second game, the Lions slugged four-baggers in the first, fourth and sixth innings en route to an 11-run victory.
Lansing's four-run fourth put the visitors up, 10-4, and they sealed the game with an eight-run sixth.
LHS led 6-0 before Tonganoxie (6-6) scored a run in the second game.
In the bottom of the third inning, Caly Ingle-Maxwell got her team going with a lead-off single. Later, with one out, a Haley Smith single was followed up with an RBI-single to center field off the bat of Kaitlyn Wolken.
The next THS batter, Holroyd, knocked a three-run homer over the left-field wall and the Chieftains cut Lansing's lead to 6-4.
After LHS responded with a four-run inning in the top of the fourth, Tonganoxie scored three more runs in the bottom of the frame to cut into the Lions' lead once again.
Ingle-Maxwell reached on a fielder's choice before THS put together three straight hits. First, Morgan Oroke singled to center field, then Smith drove Ingle-Maxwell home with a double to left. Wolken gave the Chieftains their third straight hit with a two-run double down the left-field line and Tonganoxie trailed, 10-7.
However, THS couldn't get a hit in the fifth or sixth innings.
Oroke started at pitcher in Game 2 and threw three innings before being relieved by Jacobs, who pitched the final three innings. Jacobs started Game 1 and earned a victory.
With a win and a loss, Tonganoxie split its fourth straight doubleheader.
THS travels for a 4:30 p.m. Friday game at Spring Hill and will be back at home for a 4:30 p.m. Monday make-up date versus Pleasant Ridge.