Chieftains roll to 8-1 'W' at
BFMBC
Carlisle strikes out 12 in complete game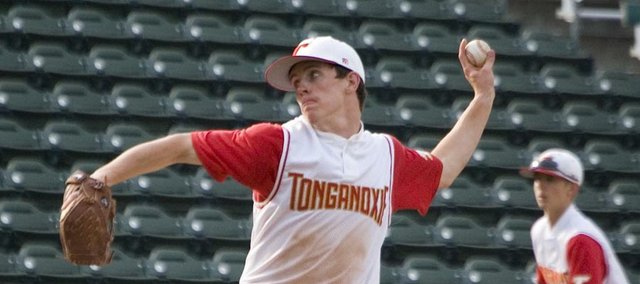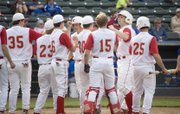 Kansas City, Kan. — It only took an inning for Tonganoxie High left-handed starting pitcher Jeremy Carlisle to find his groove Friday evening against Perry-Lecompton.
Once he did, there wasn't much the Kaws could do at CommunityAmerica Ballpark and the Chieftains cruised to an 8-1 victory in the consolation semifinals of the Butch Foster Memorial Baseball Classic.
A senior playing his first season for THS, Carlisle ran into some trouble in the top of the first, when PLHS got two of its hits and scored its only run. But as the game went on, the Kaws had more and more trouble finding their way on base.
Carlisle faced no more than four batters in an inning after the first, threw a complete game, fanned 12, gave up just six hits, hit one batter and didn't allow a single base on balls. He retired 12 of the final 13 batters he faced and struck out the last four Kaws who came to the plate.
With Perry-Lecompton befuddled by Carlisle, Tonganoxie (6-11) didn't need much offense for a victory — its two-run first inning would have been enough for a win. That didn't stop THS from scoring eight runs on nine hits, though.
Tonganoxie first got on the scoreboard — and took the lead for good — in the bottom of the first inning, when Ethan Lorance pounded a two-run home run to the left-field gap, putting his team ahead 2-1.
The Chieftains went scoreless the next two inning but busted out with a four-run fourth.
Ben Williams got the big inning started with a walk and scored when Shane Levy hit a triple to right field. A throwing error by PLHS, which was trying to throw Levy out at third base, allowed him to score on the play as well and THS led 4-1.
With one out, Dylan Fosdick drew a walk and Corey Klinkenberg doubled down the left-field line to put two runners in scoring position.
With two outs, Carlisle drove in courtesy runner Garret Elston and Klinkenberg with a double to left-center field, extending Tonganoxie's advantage to five runs.
THS added two more insurance runs in the sixth inning, when Fosdick led off with a single.
Elston ran for the catcher Fosdick once more and stole second base before Klinkenberg drove him home with a base hit up the middle.
Klinkenberg also stole second base and went on to third on an errant throw, which later allowed him to score on a groundout by Austin Harkrader.
The victory kept Tonganoxie out of the undesirable seventh-place game at the tournament. The Chieftains will face St. James Academy (11-5) for fifth place at 2:30 p.m. Saturday.
THS had lost four out of its last five games before beating Perry-Lecompton.
Tonganoxie 8, Perry-Lecompton 1
PLHS 1 0 0 0 0 0 0 — 1
THS 2 0 0 4 0 2 x — 8
Tonganoxie highlights: Jeremy Carlisle 7 IP, 12 Ks, 0 BBs; Corey Klinkenberg 2-for-3, 2 R, RBI; Shane Levy 1-for-3, R, RBI.