New Tonganoxie bike to trike conversion business ready for boom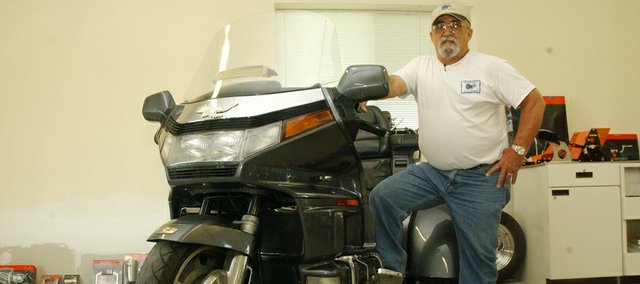 Dave Plomaritis' love for motorcycling riding continued after his physical limitations started to diminish what he could do on two wheels.
The 64-year-old Leavenworth man's passion for motorcycles traces to the moped he owned when he was 15. He graduated to an Indian and continued through a variety of bikes. But two back surgeries in the 1980s coupled with the unsafe drivers of Florida prompted him to give up his motorcycle license when he lived in that Southern state.
"I can walk and all that, but it's difficult to hold a two-wheeled motorcycle up," he said.
Plomaritis rekindled his love for riding in 2004 after he met the owner of Motor Trike at a Myrtle Beach, S.C., gathering. The Troup, Texas, company manufactures kits that convert select motorcycles to three-wheeled trikes.
Plomaritis has been a Motor Trike dealer since 2005, converting larger touring motorcycles to three-wheeled trikes.
"I got into this because I was in the situation many people are in where I can't ride a two-wheeled motorcycle," he said. "I was looking for a way to continue, and that's this.
"I enjoy doing the same for other riders in my situation. I enjoy making trikes for those in the same situation."
The kits replace a bike's rear wheel, drive train and swingarm with replacement manufactured parts and a fiberglass rear body. Unlike some other conversion kits on the market, Motor Trike doesn't require any welding or the alternation of remaining parts, Plomaritis said.
Customers include those too small to be comfortable on the large touring motorcycles that lend themselves to conversion, such as a woman from Junction City who wrecked the Harley Davidson she got to ride with her husband.
"After the crash, she was afraid to ride it and parked the bike in the garage," he said. "They got a conversion, and she rides that bike everywhere. She's got over 10,000 miles on it since the conversion."
But Plomaritis said the bulk of his customers and those driving the popularity of Motor Trike, its competitors and the introduction of Can-Am two-wheel front-end trike are, like him, Baby Boomers.
It is a growing market he hopes to further tap into with his new Tonganoxie showroom and shop at 1601 Commerce Dr. in the Urban Hess Business Center.
"This location appeals to me because it is on the route I used to take from Leavenworth to Lawrence," Plomaritis said. "It's a very scenic route. When motorcyclists are out running, they take Leavenworth Road to Tonganoxie Road to connect to (U.S. Highway) 24.
"On any good riding Saturday, I can look out the window and see motorcycles."
With the move from a home-based business, Plomaritis is offering after-market motorcycle products, while his wife, Barbara Gail, will offer apparel, he said.
The shop is open 10 a.m. to 6 p.m. Tuesday through Friday and 10 a.m. to 3 p.m. on Saturday.