Wyandotte growth should benefit Leavenworth County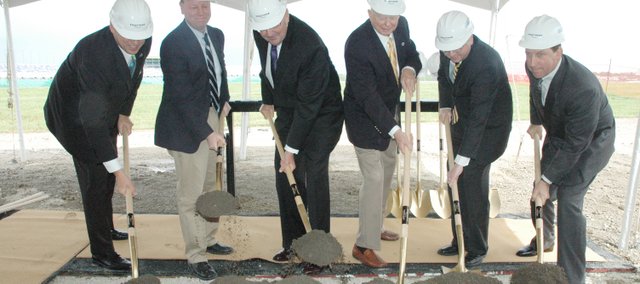 Yes, Wyandotte County continues to make headlines with businesses creating thousands of jobs and Google announcing a high-profile Internet project, Brent Miles said Thursday. But in some ways, he said, Leavenworth County may be even more poised to benefit from that growth than Wyandotte is.
Miles, the president of the Wyandotte County Development Council, spoke Thursday at the monthly Basehor Chamber of Commerce meeting at Community National Bank. He gave chamber members an update on development in Wyandotte County, filled them in on the significance of the Google Fiber project that gave the county and Kansas City, Kan., national attention and discussed how continued growth at the Village West development will affect surrounding areas, including eastern Leavenworth County.
One big effect, he said, could be the infusion of residents who come to the area for new jobs being created in western Wyandotte County.
For instance, Miles said, the Cerner Corporation's new office campus may be bringing its estimated 4,500 new jobs to Wyandotte County, but because those employees were likely to come from throughout the country, Leavenworth County may be a bigger benefactor in terms of new residents.
"This is where I would say you might be in a better position than us," Miles said.
The medical software company's planned 600,000-square foot campus — which Miles said would double the existing total office space in Wyandotte County by itself — is contractually required to hire at least 1,000 employees by the end of 2012 and at least 4,000 later on, he said. Cerner plans to recruit nationally for those jobs, he said.
And because of Leavenworth County's lower taxes, good schools and convenient access to amenities in the area, it will likely be more attractive to many of those new employees than Wyandotte, Miles said.
"Leavenworth County gets a shot in the arm," he said.
Miles also addressed the Google Fiber project on its way to Kansas City, Kan. In March, Google announced it had selected KCK out of more than 1,000 cities nationwide to be the pilot site for a new ultra-high-speed Internet network.
Since the announcement, the rumor mill had been running wild with misconceptions about what exactly the project would do, Miles said.
"'I hear they're building 100,000 square feet and they're going to bring a million jobs,'" Miles said of typical hearsay. "No, no, no. They're bringing, like, two jobs."
The correct way to think of the Google Fiber project, he said, was not as a new business coming to town but as something more like the construction of a new highway, such as Interstate-435.
Its real effect would be seen in the years following the construction of the new high-speed network, he said, when area businesses see what new possibilities it will bring.
"They're going to come in and invest millions into our infrastructure without us having to pay anything," Miles said.