Dog show marks start of fair season for rural family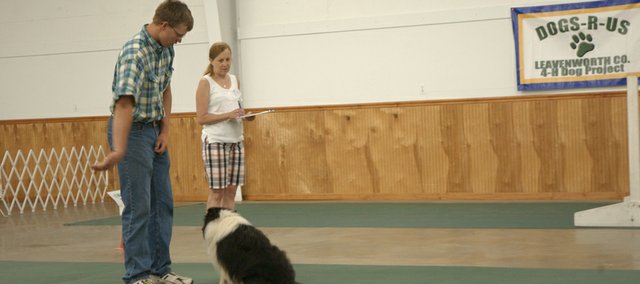 Ira Parsons exited the dog show ring with his 6-year-old sheltie Cody with a smile Saturday morning but a brief fist shake revealed his disappointment.
Although performing flawlessly in the 4-H open D obedience program for must of his time in the ring, Cody refused to make a required jump, costing the pair a purple ribbon.
"It just wasn't his morning for some reason," Ira said. "He's done really well at times in the past."
Saturday's dog and cat shows started this year's 4-H competition, which will hit full stride with the start of the county fair Tuesday at the Leavenworth County Fairgrounds.

At 18, Ira is the oldest of Rodney and Amy Parsons' eight children, along with Naomi, 17, Galen, 15, Leah, 13, Josie, 9, Rose, 7, Virginia, 5, and Sarai, 3. The five oldest children, all active members of the Livewires 4-H Club, will be at the fair with the purebred red Angus cattle raised on the family farm north of Jarbalo and numerous other 4-H projects, and they'll be back with their dogs for the agility trails Saturday, Aug.13.
The red Angus are an important part of the children's 4-H fair week, just as they are to the success of the family farm. But they take other projects, particularly the dogs, seriously. That was revealed in Ira's membership on 4-H State Dog Action Team, his disappointment at his and Cody's first appearance Saturday, their later champion effort in rally-O and the success of his sisters and brother Saturday.
In the rally-O competition, hours of training and practice paid off as Ira and Cody navigated the course of turns, backwards steps, figure eights, a steeple jump and other maneuvers like an experienced dance team.
"I've had him since he was 9 weeks old," Ira said. "He's been reserve champion in novice guidance and reverse champion last year in agility at the state fair.
"He moved up really fast."
Amy said her children like to win but also support other Livewires 4-H'ers, as witnessed by their pleasure Saturday in the grand champion efforts of Abe and Anna Buddish, who had a good morning at the dog show with Anna winning the grand championship in open D obedience. The Parsons children are most competitive when competing against each other in the red Angus show, she said.
With a year of preparation behind them, fair week is something of a vacation for the family, although not the kind of vacation where families go to a resort and relax, Ira said.
"It's not a put-your-feet-up vacation for us, especially when you have as many younger brothers and sisters as I do," he said. "I try to be there to encourage them when they're showing or being judged."
Ira and his father said activity at the farm ramped up the week before the fair as the family worked to get things in order before taking projects and livestock to the fairgrounds. Then, they spend much of the next eight days at the fairground.
"It's a very big week," Rodney said. "It starts on Sunday when we cleanup all the buildings. We move the livestock in Tuesday, and it goes clear through till the next Sunday morning, when everything is released and then clean back up again."
As Ira's attempts to be present at his siblings' fair projects indicate, 4-H activities strengthen family ties. But as home-schoolers, Rodney and Amy said 4-H played other important roles.
"4-H provides an avenue for the kids to do their project talks and exhibit the different projects they do," Amy said. "The different projects are incorporated into the school work, forestry when they are studying trees and science, and entomology — Josie's talking about wanting to do entomology next year."
Club activities also help make the children more well rounded, Rodney said.
"It's an avenue for socializing — being around other people and adults and learning responsibilities," he said.
Ira has made much of his 4-H activities. They provided an introduction to the business side of the cattle game, which he expanded on with FFA classes taken at Pleasant Ridge High School in Easton.
Later this month, Ira will start his college career at Allen County Community College, where he earned a scholarship to be on the school's cattle judging team. His goal is to transfer to Kansas State University to study grain science and business.
"I want to pursue a career in ag industry," he said. "I don't know where that is yet, probably a larger cattle operation rather than farming."
More like this story