Basic football training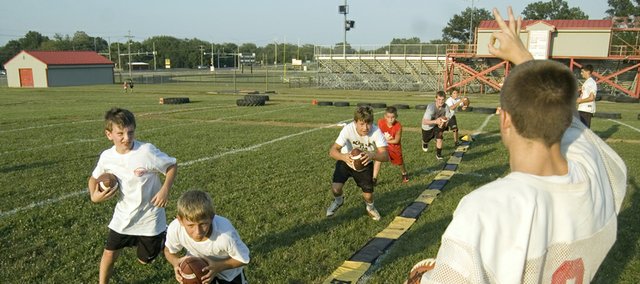 Photo Gallery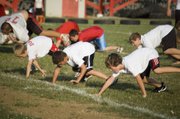 2011 Tonganoxie youth football camp
About 120 fourth- through eighth-grade football players participated in Tonganoxie High's youth football camp July 27-29.
Even with the still-blazing evening sun inducing sweat out of everyone in its path, a mass of young boys with gridiron aspirations covered the Tonganoxie High football practice field this past week.
Not even the unbearable heat could put a damper on the enthusiasm of the roughly 120 fourth- through eighth-grade children who came out in droves for THS youth football camp nightly from Wednesday, July 27 to Friday.
Camp was an important three days for the THS football staff and its players, coach Mark Elston said, because it allowed them to gear toward the future and get kids in Tonganoxie excited about football. Plus, Elston added, it gave the coaches a general idea about the number of players in each grade class and allowed current Chieftains to act as coaches for the young players and learn through teaching.
The most important thing about camp week, which began July 25-27 with 36 kindergarten through third-grade campers, Elston said, was that it served as a springboard for Tonganoxie's youth teams and the seventh- and eighth-grade teams at Tonganoxie Middle School.
"We're trying to get the entire youth program on the same terminology and plays," Elston said.
For youth and TMS coaches, he added, it gave them a preview of what the upcoming season had in store and familiarized them with the players.
TMS eighth-grade coach Mike McClellan said what he was looking for out of the campers was a willingness to learn and have a little fun.
"Everything is really about the basics. What we're tying to do is teach players how to move, how to stand," McClellan said. "It all starts with your feet, all the way up to your eyes. That's the way it's played."
Jeremy Goebel, seventh-grade TMS coach, said it was important for the young football players to learn the Tonganoxie program's formations and plays at an early age, because it would make things that much easier as they get older.
"You just see all those kids out there from fourth grade to eighth grade and they're all doing the same thing," Goebel said. "There's a consistency all across the board, and we're trying to get everyone on the same page."
As much as the coaches wanted to see players learn and develop at camp, Goebel said it was important for the campers to enjoy themselves at the same time. The coach said he could tell by the way the camp-goers approached station work with enthusiasm before they split up into position groups that they were eager to be playing football.
That wasn't lost on McClellan either. The TMS coach said it was satisfying to see the players grow skill-wise in the more finesse parts of their techniques from the first to last day of camp, but there was something else he enjoyed seeing.
"The most satisfying thing is when you know a kid is tired, but he's still smiling," McClellan said. "You know then that if it was work he wouldn't be smiling at you."
The youth football camp has grown in popularity over the past few years, Elston said. That was abundantly clear as the practice field was nearly surrounded with family members and onlookers during the past week's camp.
"In my opinion, it has really exploded as far as the involvement," the coach said.
Three years ago, Elston noted, there were almost half as many campers and just a few fathers watching. This year, the group of dads had multiplied greatly and mothers and siblings in lawn chairs were added to the crowd of spectators.
McClellan said he first noticed an upward shift in interest when his oldest son Ian, who graduated this past spring, was younger. He said the Tonganoxie youth football program has been embraced by the town's parents and credited Elston for growing the program.
"It really is contagious," McClellan said. "The kids really want to play, have a good time and the parents are positive and want the same."
That type of environment, no doubt, made it a successful camp week. Elston said the coaches put the players through drills and plays as fast as they thought they could handle them. And although temperatures weren't conducive for learning, the THS coach said the campers maintained their enthusiasm and focus.
"They're sponges," Elston said. "They absorb everything and do a real good job of retention."