New Tonganoxie Library director eager to get involved in community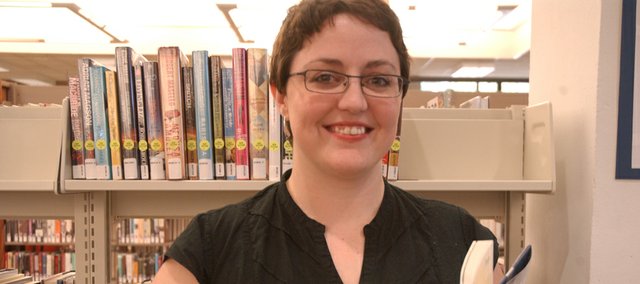 It might be because of her undergraduate degree in literature, but Kelly Fann understands the meaning of Thomas Wolfe's novel "You Can't Go Home Again."
But Fann, who's been named the next director of the Tonganoxie Public Library and will start Sept. 1, thinks she's done the next best thing.
"Tonganoxie has always been my library of choice," she said. "I grew up in Ellinwood, 8 miles east of Great Bend. I love my small town but know I couldn't live in my small town again. Tonganoxie reminds me a lot of Ellinwood."
Fann was very familiar with Tonganoxie before accepting the library position last week. She buzzed through town twice daily in her commute from her Kansas City, Kan., home to the Lawrence Public Library, where she is with information technology department. Moreover, she and her husband, Mason, have frequented Tonganoxie restaurants and have others they plan to sample.
It is Fann's goal to become much more familiar with Tonganoxie both through her work and community involvement.
"The larger the library, the more segregated your activity is," she said. "I'm anxious to do it all. Tonganoxie seems perfect for that. I get to get away from my desk.
"With a smaller community, you have a better opportunity to get involved. I kind of miss that."
Library Board President Kara Reed said Fann was selected from nearly 20 candidates who applied for the position.
"She's the total package," Reed said. "She's very qualified, enthusiastic and very willing to participate in our community."
Much like her technology skills, Fann picked up her grant writing and fundraising experience — one of the qualities the board looked for in candidates — on her own.
She got some of that experience while working in a hospital setting between earning her undergraduate degree in English Literature at Kansas University and completing her master's in library science at Emporia State in 2009, Fann said. But she added to that through volunteer work.
"I volunteered with a community nonprofit entirely funded through grants," she said. "I've written a lot — some approved, some not. I'm batting about 25 percent, which is pretty good for grants. I enjoy the experience, to be finally able to say, 'We got it.' "