Digital billboards hoped to help catch Shawnee's bearded bank robber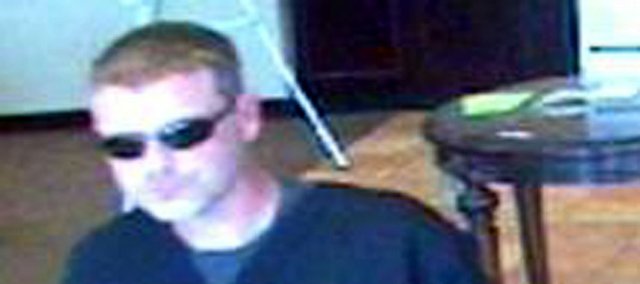 The bearded bank robber who held up a Shawnee branch last week apparently struck again Wednesday in Olathe.
The FBI — which has dubbed the suspect the 'Fake Beard Bandit' — hopes plastering his photos on digital billboards will help put an end to his spree. The FBI announced today that it plans to launch the billboard campaign in the Kansas City area, as well as Topeka in Kansas, Tulsa and Oklahoma City in Oklahoma, and Hannibal and Joplin in Missouri.
The serial bank robber — also linked to four heists in Oklahoma and one in Missouri — wore a fake beard and a fisherman-style hat and displayed a handgun when he hit Bank of Blue Valley, 5520 Hedge Lane Terrace, shortly after 3:30 p.m. July 25.
About 1:15 p.m. Wednesday, a person thought to be the same man entered Bank Midwest, 14735 W. 119th St. in Olathe, demanded cash and left with an undisclosed amount, according to the FBI. The FBI released a surveillance photo of the man inside the bank prior to the robbery — without his disguise.
According to a news release from Brian Truchon, special agent in charge of the FBI's Kansas City Division, the suspect in each robbery fits the same physical description as the Shawnee robber — a white male in his 20s or 30s, 5-foot-8-inches to 6 feet tall, 150 to 180 pounds. He typically enters the banks wearing sunglasses but no disguise and grabs a deposit slip or other paper, then returns later wearing a large-brim hat and fake beard. Brandishing a pistol, he demands cash, instructs everyone to lie on the floor then leaves the bank on foot.
The other robberies happened July 13 in Joplin; June 29, June 10 and May 26 in Oklahoma City; and May 24 in Coweta, Okla. In the Oklahoma cases, the suspect reportedly drove away in a silver Volkswagen, possibly a Jetta, with Oklahoma plates.
A reward of up to $2,000 is available for information leading to an arrest in the case.
Anyone with information about any of the robberies is urged to call 1-800-CALL-FBI (225-5324).