Soccer camp culminates with kids vs. parents game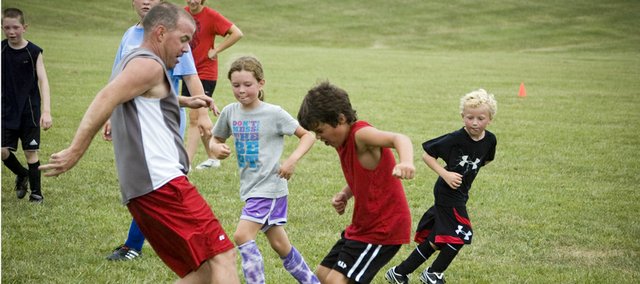 Photo Gallery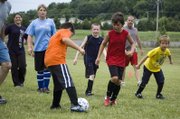 Kids vs. parents at youth 'Sokker Kamp'
Tonganoxie High's youth "Sokker Kamp" ended on Friday with a game pitting campers against their parents.
For the dozen children who attended Tonganoxie High youth "Sokker Kamp" this past week, each morning was a chance to pick up a few new tricks.
The campers, ranging in age from 3 to 12, learned about passing, receiving, dribbling, shooting, shielding and throw-ins — among other things — from THS boys soccer coach Brian Kroll and his camp assistants from the Chieftains' boys and girls teams.
When the five-day camp finished on Friday morning, Kroll gathered the children into a circle and asked the campers what else they had learned.
"How to beat the parents," shouted one camper from the huddle.
That lesson came on the last day of camp, when Kroll had the players face off with their parents in a friendly game.
The Tonganoxie soccer coach first came up with the idea a few years back, when coaching his sons' teams. He wanted to give parents the chance to play against their kids so they could see what their children had learned.
"It just turned into a wonderful thing," Kroll said.
He thought the idea would be perfect for the first youth soccer camp at THS, too.
The game was a hit with the parents. Charlie Gilmore, whose son Chas, 8, attended the camp, said the parents enjoyed the opportunity.
"I think it's been a lot of fun," Gilmore said. "You get to see how the kids have progressed over the week and improve their skills and learn to be a better soccer player."
The Gilmores were looking forward to the game all week long, Charlie said.
"We're competitive, so any time you get to play against each other, it's a fun time," he added.
Even Kroll noticed the adults didn't come Friday ready to concede anything on the field.
"The parents were kind of ruthless with the kids," the coach joked about the competitive spirit of the mothers and fathers. "But it's good."
Kaija Baldock had three children — Hattie, 7, Remi, 6, and Kalea, 3 — attending camp. She said playing soccer with her kids and the other campers was a unique experience.
"I think it was a blast for the parents, and interacting with the kids is always a good thing," Baldock said.
When it came time to pick up her children from camp each day, July 25-29, the Baldocks' mom said she got the same response — "it was awesome" — when she asked her kids about camp.
"They loved it and I do feel like they learned a lot," Baldock said.
The camp provided a different experience, Gilmore said, than a Saturday morning soccer game, in which the kids "just run around." He said at camp they were gaining skills and knowledge.
Kroll's goal was for the campers to be excited about playing soccer and for their parents to recognize that excitement and encourage them.
"The kids will go home and show off to their parents what they've learned," the coach said. "It sparks the interest."
Kroll compared it to when one of his sons had math homework and they start talking about new things that are being learned.
"Now I'm interested, because my kid is fired up about it," Kroll said, noting that a parent's support of a young soccer player is good for Tonganoxie's soccer programs.
Baldock thought it was important that the campers got to interact with high school players and coaches, because it introduced them to the THS program. She said now they will be more excited to watch the Chieftains, because they know some of the players.
"That's their future, and I really think it's a neat thing as a part of the community to be able to interact with the coaches and the high school kids," Baldock said, "because they look up to them."
Chris Tiner of the THS girls coached one team at the camp, and former Chieftain Keaton Schaffer coached the other group of campers.
Other camp volunteers were: Aly Bartholomew, Tyler Bartholomew, Kyle Caldwell, Spencer Finkbiner, Quin Smith, Zack Tallent, Keaton Truesdell, Tyler Wehmeyer, Molly Welsh and Colton Young.