LIVE

BLOG

: Kanrocksas Music Festival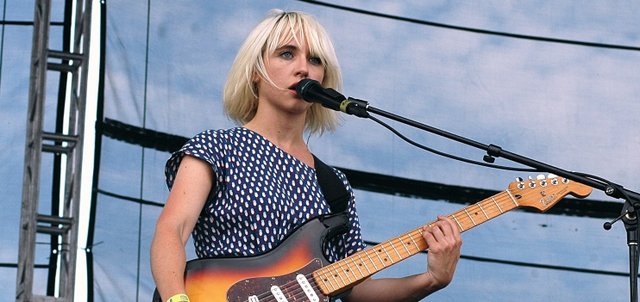 10:31 p.m.
Fun times at Kanrocksas! For a first day, everything seemed to go surprisingly well. I was most impressed by the efficient turnover of bands, with all the performances staying pretty much on schedule — not an easy feat when dealing with about 30 bands and musicians.
The Kansas Speedway is one spread out place. I think I may have walked a marathon's-worth of miles today just going back and forth between stages. But I've heard some good music, ran into a few people I know and eaten a corndog I am now regretting.
While I am taking my tired, sunburnt self home, it looks like the festivities will go on into the early hours of the morning. Eminem will take the stage at 11 p.m. and then there are three more bands scheduled on the Campground Stage. Tomorrow's daylong concert will kick off at 12:30 with local band The Hearts of Darkness, and then festival attendees can expect to see, among others, The Black Angels, OK Go, Grace Potter & The Nocturnals, A Perfect Circle and the light extravaganza that is Muse.
Look for a follow-up story to Kanrocksas in next week's Chieftain and more photos.
6 p.m.
So I've been here now for several hours, and so far seen The Joy Formidable, the Arctic Monkeys and DJ R/D in the Critical Mass tent. I've got tons of pictures, too!
It's pretty hot but surprisingly not too crowded, though I haven't yet decided if that's due to the size of Kansas Speedway (huge) or the amount of people who paid the high-priced tickets to come out.
Lots going on in the Critical Mass tent, where performing DJ's have created an ongoing, all day dance party, and lots of people are perusing the other attractions, such as the art gallery and food and beverage vendors — it's a music festival so, needless to say, the beer is flowing like gangbusters.
An interesting addition to the concerts has been the dancers from The Vibe Tribe, who have their own podiums set up at each stage in the main area. The dancers, most of whom are only semi-clothed in some rather interesting tribal-inspired creations, dance to the music, blow bubbles into the crowd and even hula hoop. One of them told me they are also offering face painting near the art gallery, the proof of which I've seen on many a sweaty, painted attendee's face as I've been walking around.
Getting ready to upload photos and video and then I'm going to check out Ween and The Flaming Lips, both of which are performing tonight. I'll try to update again and post more photos and video as I can.

12:35 p.m.
I checked in this morning at the Kanrocksas Music Festival, going on pretty much all day today and tomorrow at the Kansas Speedway, and was pleasantly surprised to find there will be wireless access and spacious work stations for media to use. So this means I will be able to keep our online readers up to date on the goings on throughout the day with blogs, photos, and video as I can.
Today's schedule will kick off at 1:30 p.m., with a performance from one of the several area bands, who's name I don't as yet know, that snagged a spot to perform during the festival via the Wild Bill's Local Music Showcase contest.
National acts today will include Fitz & The Tantrums (going on at 2:50 p.m.), The Joy Formidable (also 2:50 p.m.), the Arctic Monkeys (4:30 p.m.), Primus (7:10 p.m.), Bassnectar (8:20 p.m.), Ween (also 8:20 p.m.), The Flaming Lips (9:30 p.m.), headliner Eminem (11 p.m.) and more, more, more. See a full concert lineup here.
Also performing throughout the day will be DJ's in the Critical Mass tent, bands performing on the Campground Stage and several bands doing unplugged sets on the Ink Unplugged Stage. Lineups for the Campground and Ink Unplugged stages can be found here.
But the day is not all about the music. There is also a seven-story Ferris Wheel of Lights, interactive art galleries, a bungee jumping trampoline, fireworks show (only Friday night) and a 40-foot high water slide. A Charity Village section of the park will bring together charitable organizations, such as Bridging the Gap and Operation Breakthrough, where attendees can learn more about these organizations and what support they might be able to offer.
Having talked to a couple of event officials, I can tell you my impression thus far is that this is definitely an inaugural event — meaning there are a few glitches still being sorted out. One traffic director I talked to said he felt the event was somewhat understaffed.
We'll see how the day goes, though, and I imagine people will have a blast regardless. How can you not with bands and DJ's and water slides and fireworks and, oh my goodness, there is a lot to do and see here.
I will keep you updated as I can today and don't forget to check in next week as we'll post a follow-up story and photo gallery.