4-H important to Davidson sisters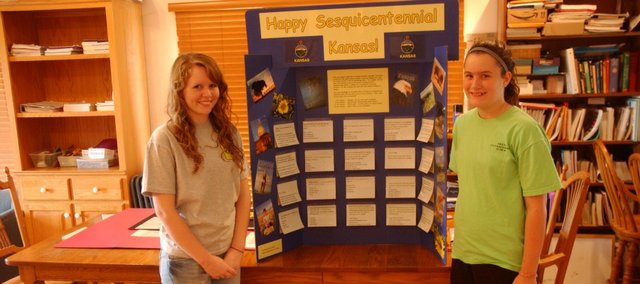 After 12 years in the 4-H, it will be a different kind of Leavenworth County Fair for Hannah Davidson.
The 18-year-old Hannah will not be entering any projects in the fair this year. That she will leave to her 13-year-old sister and fellow Reno Bobwhite, Catherine Davidson, who was busy last week putting the finishing touches on three demonstration boards she entered in the fair.
At the family's dining room table last week, Catherine explained her fair projects: A nutrition project, which replaces ingredients in a traditional zucchini cake recipe with healthier choices, and the anatomy of a cross-section of a tree trunk for forestry. Her final project is a tri-fold demonstration board of Kansas facts honoring the state's sesquicentennial.
That's not to say Hannah, who graduated from Tonganoxie High School in May and will start college at Johnson County Community College later this month, won't be busy at the fair.
"I'll be volunteering to work in the (4-H) county council's food stand, helping the fair superintendent and whatever else they need me to do," she said.
Her volunteer time is payback for all that 4-H has given her through the years, including a 2010 trip the month before the fair to Costa Rica. Through the International 4-H Youth Exchange program, Hannah spent four weeks in the Central American country with a host family active in 4-S, as 4-H translates in Spanish.
"I was looking for some kind of international exchange program," she said. "I was looking for one that would be the best fit. I was looking around the 4-H website and found this."
Having taken Spanish in high school, she wanted to go to Latin America and was happy with a chance to go to Costa Rica, Hannah said. Her host family consisted of a father (who works for the country's department of agriculture), mother, 19-year-old daughter and 16-year-old son.
Her four-week stay taught her that people share basic desires and responsibilities despite cultural differences.
"Everybody likes to spend time with family and go out and have fun," Hannah said. "Everybody has to go to school and go to their jobs."
Although she wasn't able to catch all its nuances, 4-S programs seemed to be much like those of 4-H but with projects geared toward camps rather than fairs, Hannah said. She did observe Costa Ricans put a big emphasis on gardening, with one hour of the school day set aside for a gardening class.

Since returning from the trip, Hannah has given 20 lectures on her experience and interviewed at the state 4-H camp at Rock Springs Ranch candidates for this summer's exchange program and then briefed those selected on what to expect.
With that activity, Hannah has earned enough scholarship money to pay for half her trip.
The Costa Rica exchange is but one of the 4-H travel opportunities Hannah has taken advantage through the years. She's been to Rock Springs on numerous occasions, a Kansas government camp in Topeka, attended 4-H Global Conference in Kansas City, Mo., and a national conference in Atlanta, Ga.
Those experiences and activities on the local level are what Maureen Davidson hoped for when she encouraged her children to take advantage of invitations to join the Reno Bobwhites. Maureen grew up in Goodland, where she said there was strong community support for 4-H and participation from all, even "city girls" like her.
"4-H is good for learning problem solving and learning to work with other people to get the job done," Maureen said. "Filling out record books is good experience for filling out job applications. 4-H touches on just about everything you do in life."
Catherine is following in her sister's footsteps with summer trips to Rock Springs, and said she, too, would like to travel overseas as part of the exchange program. If her thorough explanations of her three fair projects are any indication, Catherine should have no trouble with the public speaking engagements required to earn a scholarship to help pay for a trip.
Scholarships make the opportunities 4-H presents very affordable, Maureen said.
"We're fortunate that 4-H receives a lot of support locally so there is scholarships dollars to do these types of things," she said. "You pay fees upfront, but get reimbursed through scholarships. Community support makes it very economical for kids to explore what's out there."