THS

grads Puhr, Gilbert to remain teammates at Barton

CC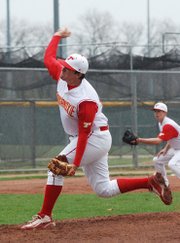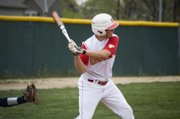 Entering their senior year of high school, neither AJ Gilbert nor Dylan Puhr knew what baseball had in store for his future.
Both Tonganoxie High products knew they wanted to play at the college level, but they didn't have any idea where that would be or if it would even work out.
Things weren't resolved quickly — or at the same time — but now both 2011 THS graduates know they will be teammates at Barton Community College.
Gilbert, a right-handed Chieftains pitcher, recalled how the groundwork was laid for the THS duo joining the Cougars' roster in Great Bend. A little more than a year ago, Post 41 baseball coach Nick Walters asked Gilbert if he wanted to play college baseball.
"Of course I do," Gilbert responded without hesitation.
Walters put the hurler to work. Gilbert started filling out questionnaires and other materials for different colleges. In the meantime, the coach started a conversation with a friend of his, Brett McBride, an assistant on the BCC baseball staff. Eventually, a tryout was scheduled for December in a THS gymnasium. McBride watched the righty work through a pitching session and was impressed enough to invite Gilbert to Great Bend for a campus tour and a meeting with head coach Mike Warren.
Before the winter concluded, Gilbert committed to Barton.
It wasn't until this summer, however, that Puhr got on board with his teammate. The middle infielder and pitcher had been looking for a junior college program to join, but remained uncertain about his playing future after graduation.
This summer, Barton had arranged to watch Gilbert throw during a Post 41 game. Walters asked the coaches to take a look at Puhr while they were there. Impressed again by a THS player, the coaches talked to Puhr after the game and set up a campus tour for him.
"I absolutely loved it," Puhr recalled of the visit.
An avid bird hunter, Puhr already was familiar with the Great Bend area because of that outdoor sport and when he found out he could play baseball there, too, it was an easy decision.
"I don't think there's much more I can get down there," Puhr said.
One thing both players expect at BCC is competition for playing time. The Cougars had 36 players on their 2010-11 roster and Gilbert knows both will have to battle to earn a spot on the field.
"They lost 20-some sophomores last year. I mean, it's gonna be tough, but hopefully I just get better and we'll see how it goes," Gilbert said. "I'm pretty excited about it."
Puhr agreed.
"Anywhere you go, you always have to compete to be able to play on a college-level team," he said.
Gilbert predicted success for his prep teammate.
"He's a hard worker and a good pitcher and he's gonna play infield, too," Gilbert said of Puhr. "He's good at that."
Both former Chieftains, Puhr said, could make an impact.
"I think we're gonna fit in just fine," Puhr said, noting they are comfortable with the BCC coaching staff. "It's a really good place for us to start our college experience."
Gilbert said both of them will be focusing on getting better and they should benefit from going into the program with an established rapport between the two of them. A year after not knowing where they would end up, both know they can trust their high school teammate to be there to help.
"Having each other there, we can go work out, we can play catch throughout the winter," Gilbert said. "You'll always have someone to help yourself get better. That's definitely going to be a good tool that we're going to be able to take advantage of."