Tonganoxie
FCCLA

earns national awards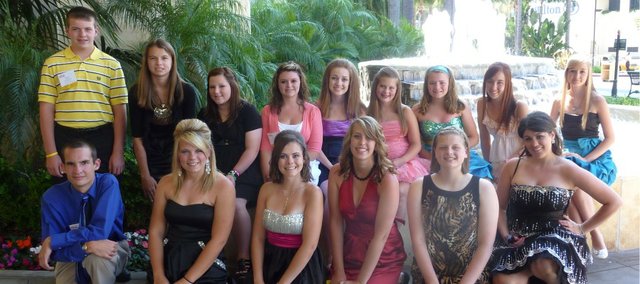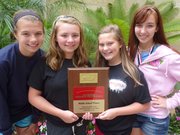 Tonganoxie representatives earned numerous awards and recognitions at the recent Family, Career and Community Leaders of America 2011 National Leadership Convention.
More than 6,500 nationwide members, advisers, alumni and guests of FCCLA gathered July 10 through 14 in Anaheim, Calif., for the convention.
Tonganoxie received many awards at the conference. The Tonganoxie Middle School chapter received the top National Community Service Award, earning the selection against competing chapters nationwide.
Both middle and high school students competed at the national level in many competitive STAR events, which build proficiency and achievement in leadership and job-related skills. Students had to receive a top rating at the state level to qualify for nationals. Tonganoxie students receiving gold medals and their events were Paige Lauri, teach and train; Emma DeMaranville and Brooke Bolon, chapter service; Haley Arevalo, Kelsey Davis and Christina Combs, illustrated talk; and Katelyn Waldeier and Wes Williams, environmental ambassador. Those receiving silver medals were Makayla Sample and Ali Bryant, chapter service; Justin Patrick, life event planning; and Kennedy Morey, nutrition and wellness. Kelsey Lawrence and Larissa Willburn received a bronze medal in promote and publicize. The Tonganoxie advisors are Pam Lamb and Heather DeMaranville.
This year's theme was "Imagination in Action." Throughout the five-day convention, participants examined and discussed issues, including violence prevention, physical and financial fitness, future career exploration and countless community service projects.