Ag Challenge of Champions tests Leavenworth County Fair visitors' knowledge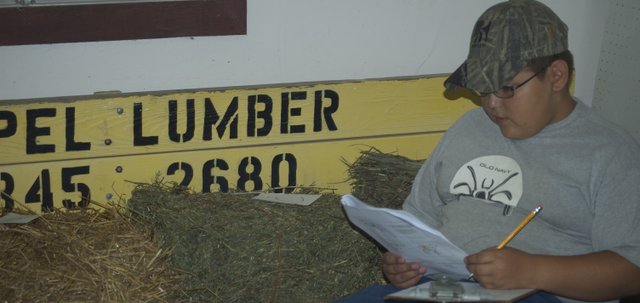 Do you know how much a bushel of corn weighs? Or how often you should trim a goat's hooves?
Competitors pondered these and other nuggets of agricultural information during the Ag Challenge of Champions event today at the Leavenworth County Fair (read to the end of this story for the answers to those questions).
For 90 minutes outside of the 4-H office at the fair, visitors could pick up a test form and answer questions about a variety of agricultural topics, competing for the best score.
"I made it a little easier this year," Leavenworth County Extension agricultural agent James Hartshorn said as Katie and Kenny Campbell began their tests. "Last year was hard."
Nobody got even half of the questions on last year's test correct, Hartshorn said. It was his first time administering the event, and he included several questions he remembered from his college exams at Kansas State University. This year, he said, only two of the questions required him to look up the answer to be sure.
"That is way too many big words," Katie Campbell said to Hartshorn while she tried to decide if centrifugal force rear axle torque and leverage contribute to a tractor's tendency to overturn.
Katie won the competition in 2010, earning a spot in the Ag Challenge of Champions event at the Kansas State Fair in Hutchinson. The top two finishers at that event, for high-school-aged competitors, win $2,000 scholarships.
Katie's mother, Karen Campbell, said she and her brother were participating in the event at her urging, partly because of the possible reward. The family lives south of Lansing.

"I don't want to say it's her goal this year," Campbell said of the state contest, "but it's my goal."
The state event, Katie said, includes much more difficult questions and an impromptu speech. Last year, she said, competitors had to make a speech about beef exports and also examine a tractor engine and identify the different components.
Though high-schoolers can earn a state trip, Hartshorn said, the event today was open to all ages.
"Anybody can do this," Hartshorn said.
Lisa Phillips, who lives near Basehor, participated in the adult category. She said she liked to participate in as many parts of the fair as she can, and she said she was confident in her agricultural knowledge.
"I grew up on a farm," Phillips said. "But they always throw something in there you don't know."
Question No. 28 stumped her a bit, though, as she rubbed her fingers along a blade of grass, trying to decide if it was fescue or bermuda. She guessed fescue.
The toughest questions, she said, were the ones asking her to identify the breeds of a meat goat and a sheep from photos.
"Some of them are very easy, and some of them are 'Oh, I should know this,' " Phillips said.
After Katie and Kenny Campbell wrote down guesses for the bonus question, asking how many square feet are in an acre (that would be 43,560), they turned in their test. Katie outscored her brother by one point, Hartshorn said.
The winners of the Ag Challenge of Champions event will be announced at 6:15 p.m. today, at the north end of the livestock show arena at the fairgrounds, along with the winners of the 4-H spirit awards and 4-H scholarships.
Oh, and those questions? A bushel of corn weighs 56 pounds, and a goat's hooves should be trimmed every two months.
For more on the Leavenworth County Fair, including a complete schedule, go to leavenworthcountyfair.com.