Market steer champion repeats at Leavenworth County Fair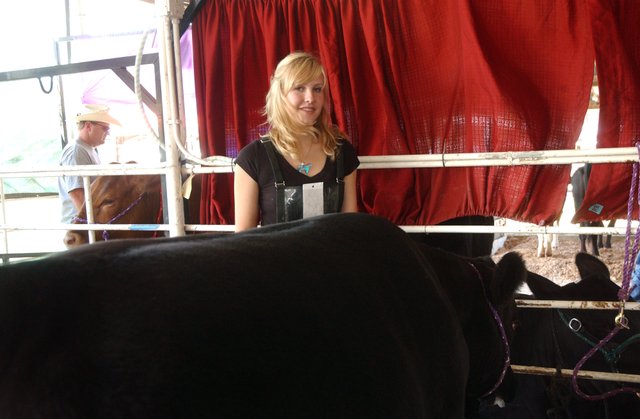 Jody Baragary is no stranger to success at the beef show arena but was still surprised to home what may be the most coveted ribbons at the Leavenworth County Fair.
The Happy Helpers 4-H Club member was grand champion in the market steer show Thursday morning with her 20-month-old steer Willie. It was the second year in a row Jody, who will start her junior year at Tonganoxie High School next week, has won the ribbon.
But Jody didn't take winning for granted as she eyed the competition that advanced through the different breeds to vie for the market steer final competition late Thursday morning.
"It was a pleasant surprise," she said. "At a lot of shows I've been to the judges have liked him, but I knew this year's reserve champion was very, very good.
"This was the hardest year I've showed, so I'm very satisfied."
The thick steer who show judge Danny Adams of Maple Hill singled out as the "most complete steer" in the competition wasn't some steer pulled from the pasture for the county fair. A lot of science, knowledge, and work went into Thursday's success.
Jody's father, Bill Baragary, said it said it started last September when he and Jody visited the South Dakota farm where Willie was born. They selected a cross-bred Angus-Maine-Anjou steer born March 2, 2010.
"We went out together and picked it out," he said. "After that, it was all her."
About two months after Willie was on the farm, Jody started training with the animal. She took him to his first show in February, where he weighed 912 pounds, she said. More shows would follow in the spring.
This summer, Jody tended Willie and her other show livestock, spoiling Willie so that he could grew to the lean 1,317 pounds he weighed at the fair.
""I got up a 6 in the morning and out in the barn from 6:30 to 7," she said. "I try to feed them when it's cool when they have more appetite. I walk him not quite a quarter mile, then wash him and blow dry him and bush him out. I keep him under a fan to keep him cool and feed him again when it was cool at night."
It all required a watchful eye as adjustments were made for the heat and an effort was made to bring Willie to his peak at fair time.
"He was on a diet a little this summer," she said. "We put him on a special mix because he was getting too big."
As the winner for the market steer competition, Willie will be the last item in Friday night's auction, a honor that with will end with the words "to the floor." Jody has been through it that before and familiar with the joy and sorrow.
Last year, her steer fetched $3,300 at the auction, and Jody anticipates Willie will do as well.
The reality of the beef industry is that cattle is raised for the kill floor, but it is also true that success in at 4-H beef shows is dependent on spending more time — and developing closer relationships — with animals. Helping with the was a video she watched this spring, which explained the methods of packing plants.
"I learned they not scared," she said. "That was the main thing I worried about."
"He follows me around in the pasture," she said. "He's just a big puppy dog."