Scratch that plan
Fall sports practice begins with wet Monday weather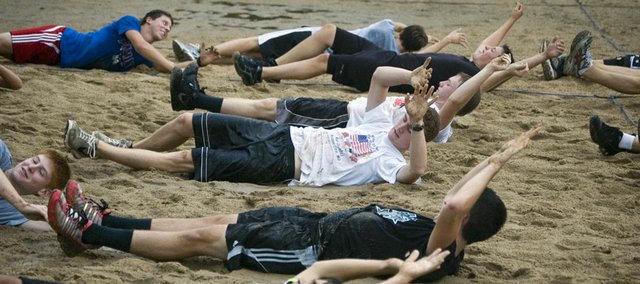 Photo Gallery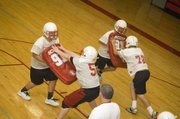 Chieftains begin fall practice
Preseason practices for fall sports at Tonganoxie High got under way Monday. The Chieftains' boys soccer, cross country, football and volleyball teams all had their first practices of the year.
The sky didn't care too much Monday morning that fall sports teams at Tonganoxie High were trying to have their first preseason practices of the year.
With pouring rain slopping up fields and thunder rumbling in the sky, the Chieftains' boys soccer and football teams were forced to alter their plans for the first day of practice.
THS football coach Mark Elston had to scrap his team's outdoor session and took the players — helmets and all — inside the main high school gymnasium Monday morning. The heavy rain and lightning had cleared up by early afternoon, but Elston said he didn't want to send his team outside just to destroy the practice field's grass.
"We could have probably been on the field," the coach said, "but I don't know how much we'd get accomplished with sliding around out there and make it look like a goat ranch after the first day."
The football team's routine was damaged because of the move indoors, Elston said, but the conditions failed to dampen the players' enthusiasm.
"They were chomping at the bit to get going," he said.
Senior THS defensive back Derek Lingo said most of the players assumed they wouldn't get to practice outside when they arrived at the fieldhouse in a downpour.
"We were gonna go with what we had, so we still made the best of it," he said.
The players had grown tired of the summer routine, and their excitement surrounding the first day of practice helped them stay positive, Lingo added. He said some of the players talked in the huddle about how hearing the click of snapping a helmet on fired them up.
"It's definitely a big energy rush," Lingo said. "It just gives us chills, because we're that much closer to getting to full pads, we're that much closer to playing. It's just like an adrenaline rush."
Still, practicing on a hardwood floor wasn't ideal. Lingo said Monday the team was not only looking forward to practicing outside, but also to putting on pads, which is allowed beginning Thursday.
"We were trying to tackle on the floor," he said, "but we didn't want anyone getting hurt."
Boys soccer team adapts to wet weather
Monday morning precipitation had Tonganoxie's boys soccer team annoyed with local meteorologists, who had predicted sunny, rainless conditions.
How much did the adverse weather affect head coach Brian Kroll's plan?
"It completely flipped it," he said.
The soccer team was supposed to have a grueling two-hour conditioning practice Monday morning at Chieftain Park. Instead, the players started outside on their practice field in the rain, moved into the west campus gymnasium when things got nasty, went back out for a quick workout at the city park, then finished up with sprints at the practice field in a drizzle.
"We still did the same stuff," Kroll said. "We just didn't do it to the intensity that I wanted to do it."
Like the football players, the THS soccer players didn't let the unexpected circumstances change their outlook on the first day of practice.
"They rolled with it very well," Kroll said, noting even the handful of players who hadn't had their physicals stuck it out in the rain.
Chieftains senior captain Matt Briggs said he didn't know it was going to be wet Monday morning, but he hadn't bothered to check the forecast, knowing what Coach K (as Kroll is called by the players) had in store.
"I knew K would have the practice no matter what," Briggs said.
Running inside and out and back and forth across campus didn't take away from the first day of practice either.
"I think that kind of added to it," Briggs said.
Soccer will be the first fall sports season to get started with a 4 p.m. home match on Aug. 26. Briggs said the first day of practice had the players excited about the upcoming season opener.
"Wow, we have a game in 10 days," he said following Monday morning practice. "It's exciting."
Cross country midnight run goes off without hitch
Because most of the Tonganoxie cross country team attended the traditional midnight run early Monday morning, few Chieftains runners were impacted by the rainstorms.
THS coach Phil Williams said conditions nearly were perfect — with temperatures in the mid-60s and a clear, moonlit sky — when 16 boys and 33 girls showed up for the midnight run.
The runners started out at the high school and ran to the water tower behind Tonganoxie Middle School and back after a one-mile warmup run. About half the team's runners, who had put in more miles this summer, Williams said, extended the three-mile course by two miles by heading south on Shawnee Street from TMS before working their way back to the high school.
"I felt it was a great practice," the coach said. "The kids acted excited to be there, and worked very hard."
After finishing up, several runners went out for an early breakfast at IHOP.
A few hours later, Williams added, two boys and two girls came to an optional 7 a.m. practice for those who couldn't be at the midnight session, but they had to run inside because of the weather.
Volleyball players battle for spots at opening practices
Rain or shine, the Tonganoxie volleyball team's players and coaches knew they would be inside on Monday.
Brandon Parker said he and co-coach Tiffany Parker put their players through drills knowing that later this week some cuts would have to be made.
"We told them this is more of a tryout than it is a practice," he said after the team's afternoon session. "We won't officially begin practice until Thursday."
This is the second year THS has had a cut policy for its sports teams and with 37 players attending practice on Monday, Parker said that was too many, even though he doesn't like making cuts.
"But it's a reality," he said. "We can't have 7,000 players on the team."
With two-a-days Monday and Tuesday and one practice scheduled for today, Parker said the players would have five practices to show what they're capable of on multiple levels before any cuts were made.
He said those practices would set the precedent for what the coaches expect out of their players this season — namely, better conditioning and mental toughness.
"In the past, we've shot ourselves in the foot with errors and a lot of that has to do with just not being in the right condition," he said.