Smith: Athletes have plenty to get excited about
Photo Gallery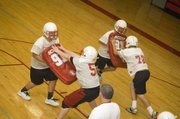 Chieftains begin fall practice
Preseason practices for fall sports at Tonganoxie High got under way Monday. The Chieftains' boys soccer, cross country, football and volleyball teams all had their first practices of the year.
Wow. Is the summer really finished already?
Well, not officially. But for Tonganoxie High's student-athletes and coaches, it might as well be.
Monday marked the first day of fall sports practices and the Chieftains' boys soccer, cross country, football and volleyball teams will be plenty busy until — at least — late October.
There is reason for excitement for the athletes on each fall sports team, too.
The boys cross country team at THS — after a three-year hiatus — returned to state in 2010. After Caleb Himpel, Patrick Rachford, Dalton Harrington, Clayton Himpel, Brady Field, Jeff Neal and Keith Slater experienced Wamego Country Club for the first time, the non-seniors expressed their desire to get back to state in 2011 and improve upon their 12th-place finish at the Class 4A race.
With practice in session, the countdown to Wamego is officially on. Everything the boys do from this point on will be part of that chase toward the state championship on Oct. 29.
The same goes for the cross country girls, too. Although they weren't represented at state last year, their numbers alone — 35 girls practiced on Monday — should assure the Chieftains of fielding a more competitive team.
Tonganoxie's volleyball team, meanwhile, is looking forward to a shot at redemption this fall after finishing 30-11 in 2010. It wasn't the Chieftains' record that disappointed them; it was the fact that they were upset in a sub-state semifinal by Piper on their home court.
THS class of 2012 seniors Megan Hummelgaard, Brooklyn Kerbaugh, Kailan Kuzmic, Sagan Scates and Haley Smith and juniors Hannah Kemp, Jenny Whitledge and Madee Walker — all of whom return with varsity experience — enjoyed a successful summer league and appear poised to put together a big season.
Tonganoxie's boys soccer team should see the biggest boost in win total of any Chieftains team this season. After suffering through a one-win regular season in 2010, THS caught fire in the playoffs, winning two road matches, and was a sudden death penalty kick away from achieving a regional championship against Maur Hill-Mount Academy.
If the boys soccer team can pick up this year where it left off in 2010, Tonganoxie could easily finish above .500, because nearly every key member of last year's team is back — including Tyler Bartholomew, Matt Briggs, Conner Kietzmann, Matt Saathoff, Evan Stilgenbauer, Zack Tallent, Keaton Truesdell and Marcus Titterington.
Considering how last year finished for the THS football team — with an eight-game losing streak — the 2011 season can't come soon enough.
It's been nearly a calendar year since the Chieftains last won on the gridiron and they should be salivating about the chance to end their losing skid.