Tonganoxie City Council agenda, Aug. 22
2012 budget at 7 p.m.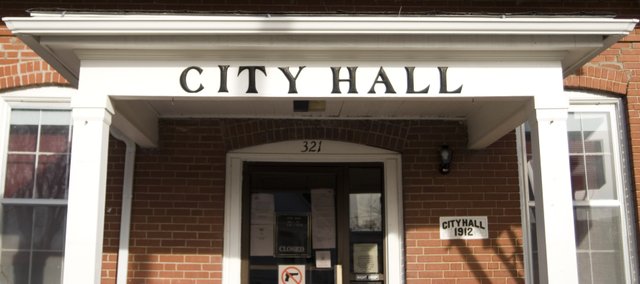 Honorable Jason Ward, mayor; council members Chris Donnelly, James Truesdell, Bill Peak , Andy Gilner and Dennis Bixby.
Open Meeting – 7:00 p.m.
I. Pledge of Allegiance
II. Consent Agenda
a) Approval of Minutes –
Special Meeting dated June 2, 2011

Special Meeting dated July 18, 2011
3.Special Meeting dated July 26, 2011
4.Regular Meeting dated August 8, 2011
b) Consider Approval of Bills - Approve Pay Ordinance A-1664
c) Consider Approval of appropriation to First State Bank & Trust for a lease payment on a 2011 Ford Crown Victoria Police Car
III. Open Agenda
"Members of the public are welcome to use this time to comment about any matter relating to City business. The comments that are discussed under Open Agenda may or may not be acted upon by the Council during this meeting. Please wait to be recognized by the Mayor, then state your name and address and all comments are to be directed to the chair."
IV.Old Business
V.New Business
a)FY 2012 Budget Hearing
1)Mayor Ward Opens Public Hearing
a) Public Comment
b) Council Comment
2) Mayor Ward Closes Public Hearing
3) Consider adoption of the FY2009 Budget
b) Consider authorizing Mayor to sign Memorandum of Understanding between the MARC and the City of Tonganoxie – Smart Light for Smart Cities
c) Consider Ordinance 1323 adopting the 2011 edition of the Standard Traffic Ordinance for Kansas cities by reference
d) Consider Ordinance 1324 adoption the 2011 edition of the Uniform Public Offense Code for Kansas cities by reference
e) Consider Ordinance 1325 amending Chapter VIII, HEALTH AND WELFARE, of the Tonganoxie City Code.
f) Consider Resolution 08-11-01 providing for salaries and compensation for the Animal Control Officer.
g) City Administrator Agenda
1) Leavenworth County Regional Airport Study
2) Executive Session – Confidential data relating to financial affairs or trade secrets of second parties
3) Discuss Industrial Prospect Incentive proposal
4) Executive Session – Non elected Personnel
5) City Administrator Employment Agreement – proposal for extension
h) City Attorney Agenda
i) Mayor Agenda
j) Council President Agenda
k) City Council Agenda
VI. Adjourn
VII. Information & Communications (No Action Required)

a) Metro Kansas City market share by county
b) Copy of letter re: Zoning Regulation Violation